US sailor in UAE subdues knife-wielding attempted rapist
Published time: 26 Apr, 2013 08:48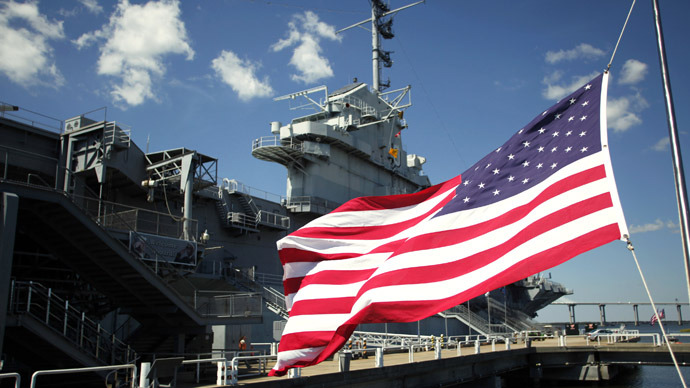 A drunken bus driver in the UAE chose the wrong target when he attempted to rape a lone passenger: The woman was actually a US Navy sailor, who broke the assailant's weapon and choked him into submission with her legs.
The victim, 28, was on a 24-hour leave in January when her ship was berthed in a port in Sharjah, a city that is part of the Dubai metropolitan area. She spent most of her free time shopping at the Mall of the Emirates, and was on her way back to the ship.
"I was in a rush as my permit was about to finish so I took the defendant's bus as it had a sign 'for passenger transport,'" the woman told the court, according to the Gulf Times. "Ten minutes later he changed his route and stopped."
The driver, 21, parked the bus in a dark and quiet area, approached her as she was sitting in the back seat, and propositioned her for sex, prosecutors said. When she turned down his advances, he took out a knife and sexually assaulted the sailor, threatening to kill her and trying to rip her clothes off.
A fight ensued in which the American woman wrestled the weapon from the attacker even as he was biting her hand, and broke the knife in two, the National reported. She got a stranglehold on the man's neck with her legs, forcing him into submission, and fled shortly after.
The sailor reported the incident to her superiors. Dubai police arrested the driver the next day as he was sleeping at his home. Prosecutors charged the man with attempted rape, assault, threatening to kill and consumption of alcohol.
At the court hearing, the defendant confessed to being drunk on the day of the alleged attack, but denied remembering anything about the event. "It is true that I consumed liquor. I was very drunk so I couldn't remember what I did on the bus," he told the judge.
It is unclear whether the man will face punishment for DUI.
The court ordered that the defendant be examined to confirm his age after he failed to provide a birth certificate; the suspect is reportedly a Pakistani national. The trial will adjourn on May 1.