US free education provider blocks access to students in Syria, Iran, citing sanctions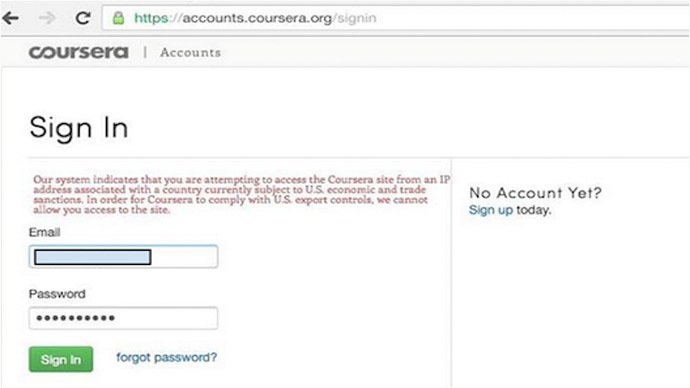 A prominent US provider of free, online top university courses – and one that prides itself on taking knowledge to the third world – has now blocked students from Syria, Iran and a few other countries on the grounds that they are under US sanctions.
US federal regulations, as it turns out, prohibit countries under economic and trade sanctions from accessing a wider list of goods and services than previously thought.
The lesson was learned Friday when online course giant Coursera abruptly blocked visitors from several countries from logging on. One Syrian participant was greeted with the following message:
"Our system indicates that you are attempting to access the Coursera site from an IP address associated with a country currently subject to US economic and trade sanctions. In order for Coursera to comply with US export controls, we cannot allow you access to the site."
Coursera, founded by two Stanford professors, specializes in MOOCs, or massive open online courses. It provides free learning to nearly 22 million students worldwide, allowing them to take courses specially catered to each individual's needs, abilities and timetable. Iran, Sudan, Syria and Cuba – the countries now blocked from receiving this education – contain some of the very demographic at whom these courses are aimed.
The issue was subsequently taken up by a number of groups and course participants, as well as a course professor, who wrote about it in blogs and on Facebook, re-posting the blocking message they had gotten.
The same Syrian student who received the blocking message, Dr. Mahmud Angrini, was publicly praised by the provider a few months ago for being such a great example of how free online education can change people's lives. Wamda, an online platform for entrepreneurs in the Middle East and North Africa regions, broke his story Monday.
Angrini had lost almost everything in the violent turmoil that gripped his native Aleppo – his home, laboratory, friends and even his family. The doctor found what little solace he could in the online courses which served to occupy his mind, writing in a blog that "Coursera changed my life" as he was grieving and suffering from depression.
He appeared very hopeful six months ago, addressing fellow refugees with the words: "It is never too late to start again… Someday, the war will end, and we will come back to our homes and our former lives to contribute to the reconstruction process in our country. To do so, we need to learn new skills, and this could only be achieved through continuing education. We can take advantage of the high quality courses that Coursera offers at no cost."
Coursera, for its part, applauded Angrini for advancing and "living its mission to create a world where people can learn without limits."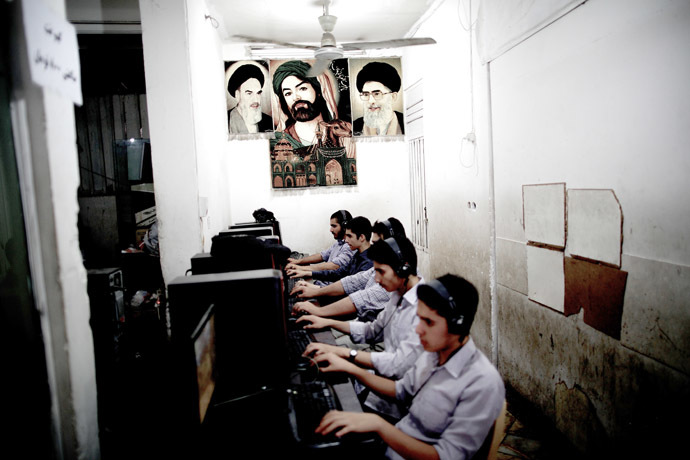 But that was until Friday, when Angrini and several others enrolled with Coursera were blocked from accessing its courses.
"With this act you are only helping hardliners in Iran to impose their ideology and beliefs in the absence of a widespread, free higher-education system… we hear the World Bank is getting into this, as you are revolutionizing free education… this blockage is the worst thing for us… one country out and you are not working globally anymore, you are working for US government friends,"wrote Saleh Amini, a student from Iran, wrote in stark contrast to Dr. Angrini's initial praise of the institution six months previously.
The news was also shared by a disgruntled professor from the University of Copenhagen, who teaches Coursera's materials online and finds the situation very troubling. His e-mail to course students, which has been circulated online, says that "few things illustrate the bone-headedness, short-sightedness, and sheer chauvinism of the political structure of the United States better than the extent to which its ideologues are willing to go to score cheap domestic political points with narrow interests in the pursuit of a sanctions regime that has clearly run its course."
He continues, ironically, to compare the course to a "weapon" that "must not fall into the hands of anybody happening to live in the countries that the United States government doesn't like… I am appalled at this decision," he said, urging students in the affected countries to use whatever skills at their disposal to circumvent these online blocks e.g. by using VPN routers and other services.
The following message appears on the website's Student Support Center, explaining that "services" for sanctioned countries will no longer be offered, after a period of deliberation.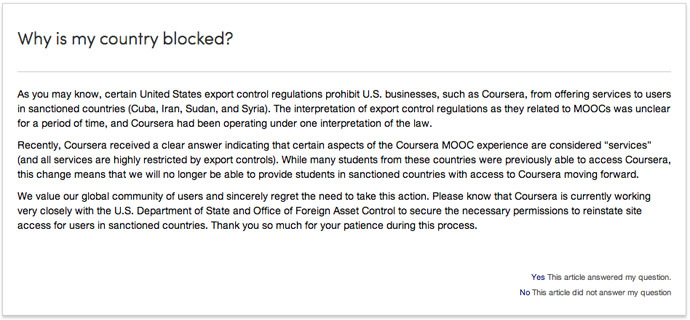 A spokeswoman for Coursera told the Inside Higher Ed portal that apparently the restrictions also apply to educational institutions set up outside the US, citing legal reasons, but adding that Coursera is trying to find a solution.
It is reasonable to ask why the block is only happening now. Coursere explains this on their website as having to do with "the interpretation of export control regulations as they relate to MOOCs."
"We recently received information that has led to the understanding that the services offered on Coursera are not in compliance with the law as it stands," the site explains. "Accordingly we have instituted a restriction in compliance with the current export controls to ensure that our business remains in good standing with the law."
The sudden inclusion of educational services into the ban on dealing with sanctioned countries has not affected all MOOC providers: others, such as Udacity, have not yet received official confirmation (having been previously banned in Syria for a while) – although their YouTube channel is virtually non-existent, since its content is blocked in several countries.
The only similar service that appears to still be available and unaffected so far is edX. The company works closely with the US State Department and the Treasury Department's Office of Foreign Assets Control, who have so far given it licenses to run courses for Cuba and Iran. The education provider is still waiting for a decision on its Sudan license.
You can share this story on social media: