Record number of nations oppose US embargo of Cuba in UN vote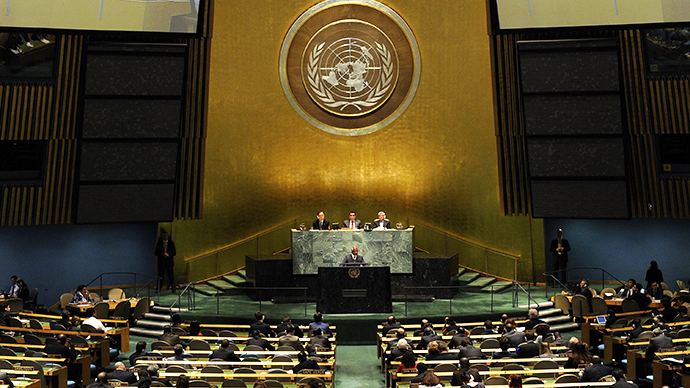 In an overwhelming UN vote, 188 countries have called on the US to lift its 53-year trade embargo on Cuba. Havana has slammed the financial sanctions as a flagrant violation of human rights and said they are tantamount to genocide.
The recording-breaking opposition to the embargo saw Israel isolated as the only country to vote in support of the US. Palau, the island nation that got behind the US last year, abstained in the 22nd UN annual vote, along with Micronesia and Marshall Islands.

Cuba's Foreign Minister Bruno Rodriguez Parrilla conveyed Havana's disappointment at the Obama administration, stressing that the human cost of the embargo is "incalculable." Upon assuming the presidency Barack Obama pledged to take steps to improve US-Cuban relations, but Rodriguez said the sanctions had actually tightened under Obama.

"Our small island poses no threat to the national security of the superpower," Rodriguez said. "The human damages caused by the economic, commercial and financial blockade imposed by the United States against Cuba are incalculable."

Rodriguez also stated that the sanctions had been classified as "genocide" under the Geneva Convention of 1948 and the total cost to the Cuban economy was estimated at $1.1 trillion dollars.

Several other nations spoke out against the US embargo at the UN vote. China's Deputy UN Ambassador Wang Min urged the US "change its policy toward Cuba" as the "call of the international community is getting louder and louder."

Moreover, Bolivia's UN ambassador Sacha Llorenty Soliz decried the embargo as "sullying the history of mankind"


In the name of human rights?

The US mounted its defense in the face of overwhelming opposition and a barrage of criticism, claiming the sanctions were in place "urge respect for the civil and human rights."

Seeking to justify the financial penalties that have been held in place for 53 years, US diplomat Ronald Godard said the US was being used as a "scapegoat" for Cuba's internal issues.

"The international community cannot in good conscience ignore the ease and frequency with which the Cuban regime silences critics, disrupts peaceful assembly [and], impedes independent journalism," Godard said to the assembled UN countries.

Moreover, Godard added that the US had sent $2 billion in remittances to Cuba in 2012 and underlined that the US provides a large portion of the food aid to the island.

The US began imposing economic penalties on Cuba when Fidel Castro seized power in 1959 and nationalized property owned by American individuals and corporations. The measures were ratcheted up three years later by the US government to a full embargo on Cuba.

Last year Washington took action to ease travel to and from Cuba, granting 16,767 visas to Cubans in the first half of 2013 - 80 percent more than were issued in the same period in 2012.

You can share this story on social media: