America only one step away from recession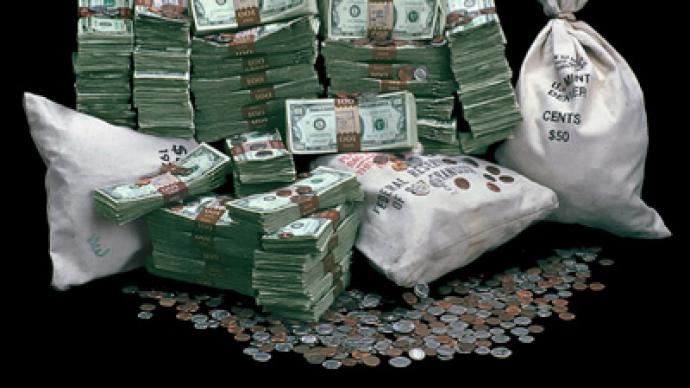 Global finance chiefs are warning that swift action is urgently needed to escape a new wave of economic crisis. And the annual spring gathering about the world economy produced a dreadful financial forecast.
"We are one shock away from a full-blown crisis", said Robert Zoellick, World Bank president.Critics say that by establishing the International Monetary Fund and World Bank, America has positioned itself as an economic doctor to the world using the institutions to retain global domination and fulfill the business interest of large corporations craving resources belonging to cash-strapped countries."What they do is they very often pressure government to adopt what we call pro-cyclical policies. The economy's weak and in recession, they want them to cut spending or raise taxes. And that can be very dangerous, I mean you can slip back into recession, you can make a recession worse," Mark Weisbrot from the Center for Economic and Policy Research told RT.A tale that seems to be just too familiar to Latin America, the Middle East and most recently Greece, where tens of thousands storm the streets protesting against austerity measures, public spending cuts and tax hikes.As the largest financial contributor, Washington also wields the largest voting power at the IMF. "To be fair to the IMF, it is run primarily by the US treasury department and with some input from the European countries, and that tells you most of the problem. There are supposedly more than 180 countries which are run by just a handful," said Weisbrot. But sometimes it seems just one country is in charge. An American has always served as president of the World Bank since its creation in 1944. But today, with its own backyard in disarray, the US is hardly in a position to hand out financial advice to others. In 2011, America's financial management can be best defined by a non-stop borrowing binge. The clock with a running ticker of US debt has already surpassed a ceiling of $14.3 trillion. Now the US may want to consider investing in a bigger clock with a few more digits on the display.The problem is so bad the US president cannot ignore it, and the government seems not to know how to solve it. Republicans have refused to support measures such as raise taxes on the rich or cutting defense spending. "We are approaching national debt on par with the total GDP of the country. This is very serious because most economic research suggests that countries tend to decelerate in their growth and have more and more severe economic problems, once their debt-to-GDP ratio gets above about 90 per cent. And we're about to go through that level," said Max Fraad Wolff, a financial analyst.All eyes are now on the nation that sets the bar for others to see if it can clean up its bad debts at home.
Some believe the IMF and the World Bank might not be the solution countries need when the cash runs dry. Andrew Garvin Marshall says these institutions are actually to blame for many problems in developing states. "The International Monetary Fund and the World Bank say that they are interested in reducing poverty. All their actions however said otherwise. Their actions have instead raised the poverty level and created under-development", said Marshall. The Western banking corporations do their best to make developing countries dependant, believes Marshall. "They make developing countries produce certain crops for export to the European missions and thus making the countries dependent on European missions for food and other services. And not only are they interested in continuing to manage the so-called developing world, but they are also trying to integrate and advance the process of global governance by bringing in emerging agents such as China and India and other nations".
You can share this story on social media: