UN criticizes Turkey over 'return' of Syrian refugees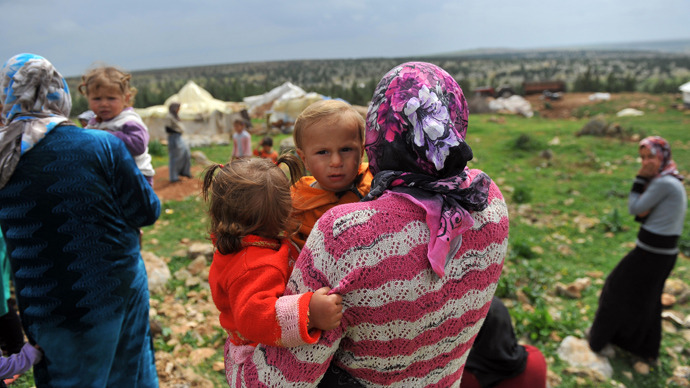 The UN High Commissioner for Refugees (UNHCR) has slammed Turkey for expelling at least 130 Syrians without UN oversight, and urged an investigation into the refugee camp clashes that prompted the deportations.
The refugee agency pointed out that forced returns violate international law and cannot be used as a "punishment or deterrent," Reuters reported on Friday.
A day earlier, around 600 Syrians were reportedly sent back home from the Suleiman Shah refugee camp in Akcakale, southeastern Turkey. The move followed violent clashes between refugees and Turkish military police, in which Syrians threw rocks at law enforcers and police had to use water cannons and teargas to disperse rioters protesting against poor living conditions in the camp.
Ankara officially denied on Thursday that any of the refugees had been forcibly deported, saying that between 50 to 60 people decided to go back to Syria "of their own free will." Later, the Foreign Ministry stated that 130 people – identified with the help of camera footage as being "involved in the provocations" – had voluntarily returned to Syria to avoid punishment.
"Reports that this group was expelled across the border are incorrect," Reuters quoted the ministry as saying. "As required by the temporary protection status and within the framework of the 'open door' and 'non-refoulement' principle, our country does not turn its back Syrians wanting to come to Turkey or forcibly evict those in our country."
Commenting on the deportation, the UNHCR told Reuters that it had not been invited by Turkish authorities "during the return process to monitor the procedures."
"Persons under international protection who have violated the law of the host country are subject to the relevant national laws and judicial procedures," explained Melissa Fleming, a spokesperson for the refugee agency. Even a voluntary return to the refugee's country of origin "is also subject to standards and procedures where individuals may be placed at risk on return," she said.
The refugees returned to the territories in northern Syria – which are controlled by rebels. The UNHCR now does not know what happened to them, as it has no direct access to that region.
According to the refugee agency, over 1 million people have left Syria since the beginning of the bloody conflict in their home country. Over 261,000 found shelter in Turkey – mainly in 17 camps in eight provinces. But those are only registered refugees: The Turkish government estimates that the total number is around 400,000.
You can share this story on social media: