Seven UN peacekeepers killed in Ivory Coast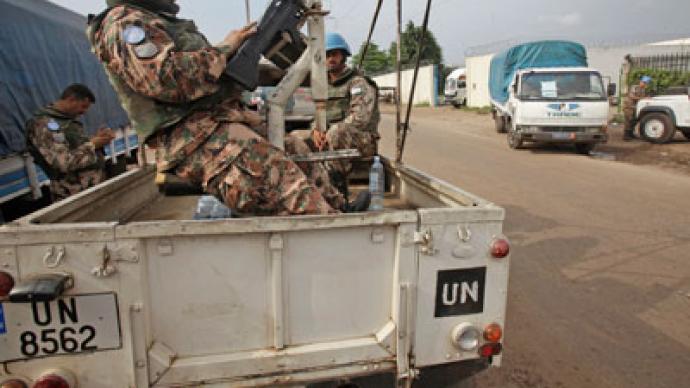 Seven UN peacekeepers have been killed in a remote area of southwestern Ivory Coast. They were ambushed during a mission to protect civilians threatened by attack. Over 40 of their colleagues who stayed on guard remain in danger, the UN said.
A group of peacekeepers were on a reconnaissance patrol investigating rumors of "movement of armed people" and "threats on the security of civilians" near the village of Para in the Tai region, near the border with Liberia, said UN spokeswoman Josephine Guerrero. The patrol was attacked by a large group of people. Around 40 other peacekeepers were deployed to the area to prevent any further attacks on the village during the night.Due to the remoteness of the area, local authorities were unable to confirm any casualties among the civilians, but according to UN officials hundreds of villagers were fleeing the region and many are feared dead or injured. The mayor of Tai, Desire Gnonkonte, confirmed to AP that hundreds of villagers were on the run.A joint operation of government troops and UN forces to find the "mercenaries" responsible for the attack will be launched on June 15, said Ivory Coast's deputy defense minister Paul Koffi Koffi. President Alasanne Ouattara has reportedly requested helicopter gunships as reinforcements from the UN.UN Secretary General Ban Ki-moon condemned the attack, urging the government to find the killers and bring them to justice. The UN envoy to Ivory Coast also condemned the attack, and said the UN "will take all necessary measures following this grave violation of international law."The United Nations has had a peacekeeping mission in Ivory Coast since 2004. There are currently over 9,400 peacekeeping troops on the ground.The UN Security Council later issued a press statement, also censuring the attack.Last year, as many as 3,000 people died after then-incumbent President Laurent Gbagbo refused to recognize the election of Alassane Outtara as his successor. Many recent cross-border raids  are blamed on supporters of the ex-president.
You can share this story on social media: