Torture, starvation, infant execution in N. Korea prison camps exposed to UN panel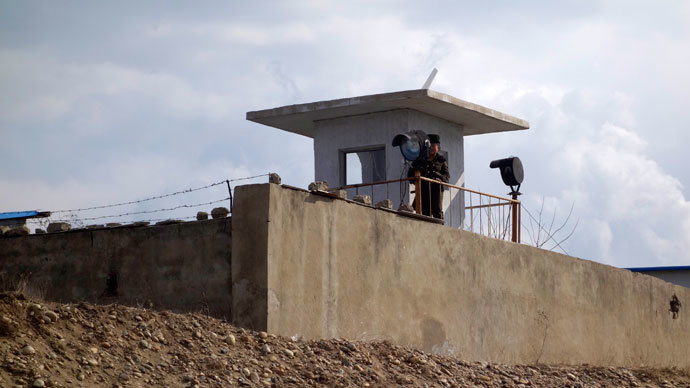 Horrifying accounts of human rights abuse in North Korea were described by witnesses to UN Commission of Inquiry. They claim to have survived Gulag-style camps, where public executions, torture and deaths caused by hard work are said to occur regularly.
UN Commission of Inquiry on North Korea 




Michael Donald Kirby (Australia) – chairman of the Commission, former Justice of the High Court of Australia

Marzuki Darusman (Indonesia) – current Special Rapporteur on the situation of human rights in the DPRK.

Sonja Biserko (Serbia) – founder of the Helsinki Committee for Human Rights in Serbia

The United Nations Commission of Inquiry on the Democratic People's Republic of Korea (DPRK), which was set up this March to investigate "systematic, widespread and grave violations of human rights" in the country, on Tuesday held its panel hearing in Seoul.
Bone-chilling personal accounts of life in North Korean prison camps have for the first time been revealed to the UN team since the start of its work.
The witnesses who testified to the panel included North Korea's arguably most famous defector, Shin Dong-hyuk – the only known person to have escaped a "total control" internment labor camp.
Shin was born in Camp 14, where political prisoners are forced to work until they die without any chance of release. Around 15,000 people are believed to be doing slave labor in the 155 square kilometer (60 square mile) prison area, which is also known as Kaechon internment camp.
Like the other children at the camp, Shin learned to survive starvation conditions living in bare concrete blocks – and later day-long work out in a field – by catching rats and reporting on others for "rewards." He said he witnessed death from hard labor, tortures and public executions. The latter included those of his mother and brother, whom he turned in after hearing they were planning an escape.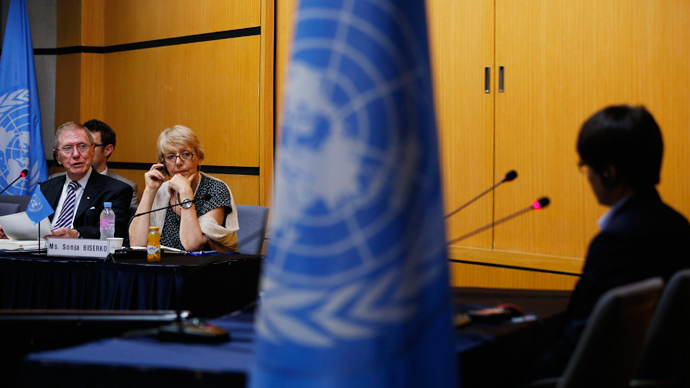 Michael Donald Kirby, The UN's chairman of the commission, asked the 30-year-old to describe his own experience of torture in the camp. One such account included a prison guard cutting off Shin's finger for dropping and breaking a sewing machine.
"I thought my whole hand was going to be cut off at the wrist, so I felt thankful and grateful that only my finger was cut off," he said, as quoted by Reuters.
Shin himself managed to escape the prison camp in 2005 by climbing over the dead body of his friend, who had tried to scale the high voltage fence. Shin then made his way to China, where he worked as a laborer until he accidentally met up with journalist, Blaine Harden, who recognized the importance of the young man's story and brought him to South Korea and the US.
After several years of campaigning for shutting down the North Korean prison camps, Shin told American journalist, Anderson Cooper, that he thinks he is "still evolving from an animal to a human."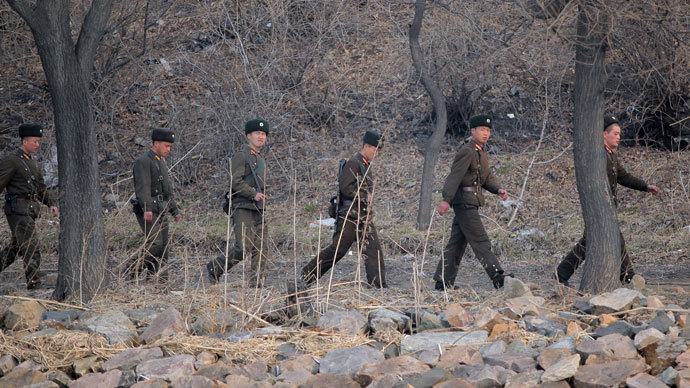 The testimonies of some other North Korean 'Gulag' survivors suggest Shin was born under a lucky star, as in some of the other camps prison-born babies are said to be killed.
A 34-year-old woman, Jee Heon-a, who was incarcerated in 1999, told the Commission she witnessed a harrowing scene of a mother forced to kill her own newborn by drowning.
"It was the first time I had seen a newborn baby and I felt happy. But suddenly there were footsteps and a security guard came in and told the mother to turn the baby upside down into a bowl of water. The mother begged the guard to spare her, but he kept beating her. So the mother, her hands shaking, put the baby face down in the water. The crying stopped and a bubble rose up as it died," Jee said.
Unlike Shin, who was raised in a prison camp and got used to its brutalities so much so he still considers it his "home," Jee was shocked when she arrived to serve her time there.
"Everyone's eyes were sunken. They all looked like animals. Frogs were hanging from the buttons of their clothes, they were in a plastic bag with their skins peeled," she described.
Like the other prisoners, Jee also started eating salted frogs in order not to die from malnutrition.

"We were expendables they were keeping as beasts of labor, to get the most out of us before we die," Shin added.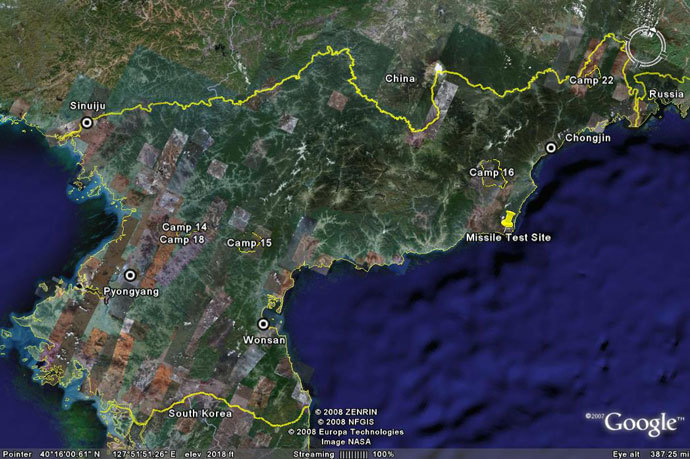 This is not the first time North Korean defectors, some of whom are survivors of labor and concentration camps, have shared the story of their struggles with an international audience. However, the inquiry at UN level is the first of its kind.

"Because the North Korean people cannot take to arms with guns like Libya and Syria... I personally think this is the first and last hope left," Shin told the UN panel. "There is a lot for them to cover up, even though they don't admit to anything."
Officially, Pyongyang has been strongly denying the very existence of the camps. Following the UN's decision to carry out the inquiry, So Se Pyong, the North Korean representative at the UN Human Rights Council, has branded the commission a "political instrument… to discredit the image of the DPRK" and warned of "serious consequences" if the inquiry goes ahead.
According to the official, North Korean citizens are "happy with pride and honor that they have one of the best systems for promotion and protection of human rights in the world."
However, Pyongyang has refused to let any human rights inspectors into the country.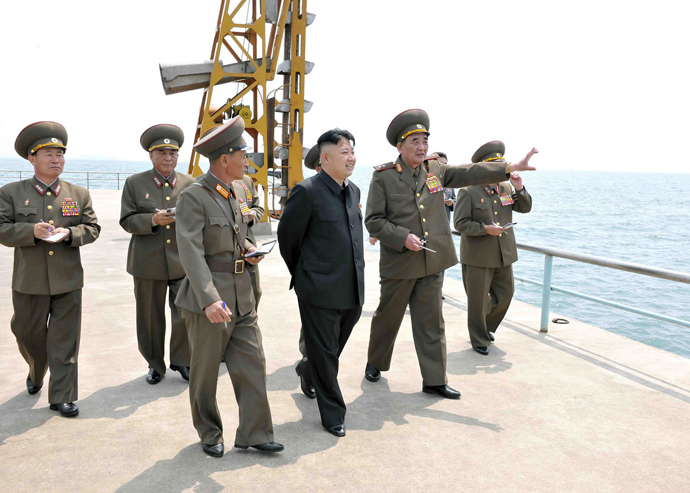 'A positive step in fighting crimes against humanity'?
Meanwhile, Human rights groups such as Amnesty International have estimated there are up to 200,000 people held in North Korean prison camps. Amnesty's recent reports based on comparative analysis of satellite images suggest the vast areas of the camps have been expanding in the last few years.
Amnesty has hailed the UN Commission's work as "a positive step in addressing crimes against humanity."
"The Commission of Inquiry is a positive step towards addressing the dire human rights situation in North Korea. UN Member States have today sent a clear message to the North Korean authorities that those responsible for crimes against humanity will ultimately be held to account," Rajiv Narayan, North Korea Researcher for Amnesty International, said. 
However, many rights experts believe the inquiry is unlikely to have any immediate impact on the rights situation in North Korea, other than serve to publicize a campaign that has little visibility globally.
"The UN has tried various ways to pressure North Korea over the years in the field of human rights, and this is a way to raise the pressure a bit," Bill Schabas, professor of international law at Middlesex University in Britain, told Reuters.
"But it's obvious that North Korea is a tough nut to crack and the UN's means are limited. There would need to be profound political changes in North Korea to make headway in the field of human rights," he added.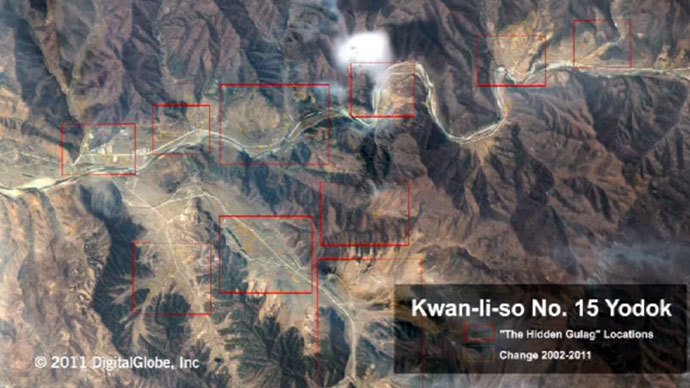 On its website, the Commission also said it was "not appropriate" as yet to comment on any ICC jurisdiction over potential crimes against humanity because North Korea had not signed the statutes that would enable the court to prosecute.
But some activists believe the inquiry's findings could play an important role in raising people's awareness of a country with heavy ideological indoctrination – at least by means of contacts with family members living abroad.
"People living their daily lives here don't realize how important this is. It will have a tremendously powerful impact across North Korea," said Kim Sang-hun, chairman of the Seoul-based group Database Center for North Korean Human Rights.

The footage allegedly shows scenes from North Korean Yodok concentration camp, otherwise known as Camp 15.

You can share this story on social media: