US national to stand trial in N. Korea for 'plotting to topple' govt
Published time: 27 Apr, 2013 15:50
Edited time: 27 Apr, 2013 16:17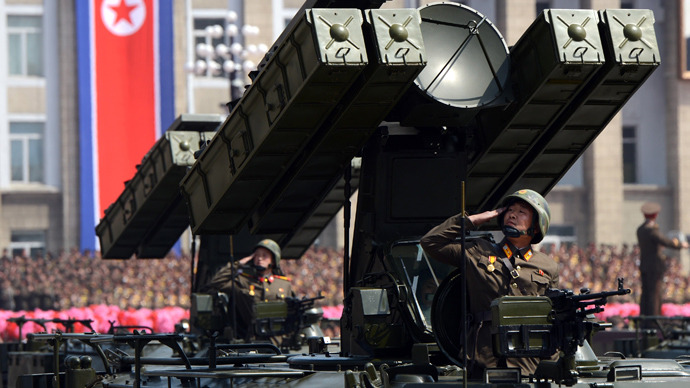 Pyongyang said Saturday that a Korean-American tourist, detained by the isolated communist nation since late 2012, will stand trial for attempting to topple the regime, a move that could further destabilize the political situation in the region.
The announcement comes amid a tense standoff between the Democratic People's Republic of Korea (DPRK) and the United States, with Washington and Seoul conducting joint military drills and Pyongyang threatening to launch an attack against US Military bases and South Korea.
Kenneth Bae, known in Korea as Pae Jun-Ho, has been in police custody since arriving with a tourist group in North Korea's northeastern city Rajin on November 3, 2012.
"The preliminary inquiry into crimes committed by American citizen Pae Jun-Ho closed," state news agency KCNA reported on Saturday. "In the process of investigation he admitted that he committed crimes aimed to topple the DPRK (Democratic People's Republic of Korea) with hostility toward it."
His crimes were proved "by evidence," the report said, adding that Bae would "soon be taken to the Supreme Court of the DPRK to face judgement."
It is not clear what type of punishment Bae, 44, might receive, although North Korea's criminal code usually metes out life imprisonment or capital punishment for such offenses. A South Korean newspaper published unsubstantiated claims that Bae may have been carrying video footage of North Korea executing dissidents.
In 2009, former President Bill Clinton traveled to Pyongyang where he successfully negotiated the release of two US journalists with former leader Kim Jong-il. The two had been charged with crossing into the North illegally.
Bae, reportedly a tour operator of Korean descent, is the sixth American to be arrested in North Korea since 2009.
Rhetoric between Pyongyang, Seoul and its ally Washington flared in recent weeks following a UN decision to tighten sanctions after North Korea defied international warnings and conducted an underground nuclear bomb test on February 12, the third such test by the reclusive state.
Pyongyang rejected on Friday a call for negotiations to reopen a joint industrial complex operated by the North and South. Seoul said it would remove all its remaining workers from the Kaesong factory complex, which is situated just inside North Korea.
North Korea has already removed some 53,000 workers and blocked access to the complex in response to joint South Korean and US Military maneuvers, which Pyongyang said are a threat to its national security.
Earlier this month, Russian Foreign Minister Sergey Lavrov warned against aggravating the Korea crisis with military drills. "One just shouldn't scare anyone with military maneuvers and there's a chance that everything will calm down," he told journalists as he met with US Secretary of State John Kerry on the sidelines of a summit of G8 foreign ministers in London.
Two days later, on April 12, Lavrov said Russia would welcome a fresh round of talks on Swiss soil in an effort to resolve the crisis: "If we can re-establish that, Russia would, of course, support it."