UN 'seriously concerned' over Egypt's crackdown on dissent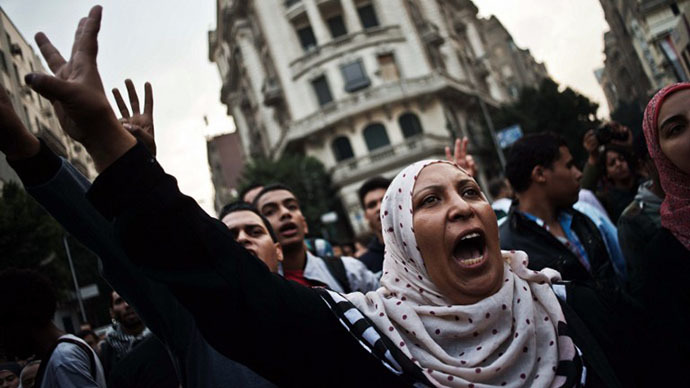 UN chief Ban Ki-moon expressed unease Wednesday about the impact of Egypt's new law which restricts assemblies following a crackdown and the arrest of dozens of activists angry at the new measure.
The UN Secretary-General is "seriously concerned by the detentions and violent dispersal of protesters" by security forces that have occurred since the adoption Sunday of legislation that grants the Interior Ministry the right to ban any kind of protests of over ten people taking place without police approval.

"As Egyptian authorities considered legislation to regulate protests, the Secretary-General had encouraged them to make sure that any laws passed are in full conformity with international human rights standards," a UN spokesperson said in a statement. "He reiterates the concerns expressed by the United Nations High Commissioner for Human Rights that the new law that was passed could lead to serious breaches of the right to freedom of peaceful assembly."
Meanwhile on Wednesday Egyptian authorities handed out heavy prison sentences to a group of 21 young female supporters of former president Mohamed Morsi and ordered the detention of two dozen secular activists for participating in Tuesday's demonstrations.
Hundreds of secular youth activists followed up Wednesday with another protest in downtown Cairo.
"Those thinking the authoritarian pharaonic style works will find it doesn't anymore," protester Laila Soueif told AP. "There will be a third wave of the revolution much more violent than before. We are witnessing a turning point."
Also on Wednesday clashes near a court complex in Alexandria broke out between police and activists protesting the new law and police brutality, state news agency MENA reported. Police fired teargas at stone-throwing protesters and attempted arrests at the scene.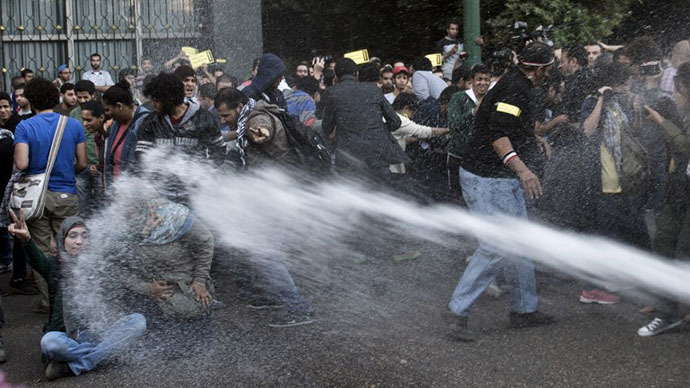 Earlier on Tuesday police clashed with hundreds of both secular and Islamist demonstrators in Cairo as hundreds of protesters took to the streets to defy the new law. Teargas and water cannons were fired as security forces enforced the new legislation. Protesters chanted "down, down with military rule," as dozens were detained by security forces.
RT's Bel Trew reported that Egyptian activists feel as though the country has turned back the clock to the days of Hosni Mubarak's rule, "when these kinds of rallies were swiftly moved from the streets by the security forces who were given the carte blanche to use violence to move people on."
The military-backed government is arguing that it simply wants to restore order to the streets, even going as far as linking efforts to thwart those giving them trouble to a "war on terrorism."
Authorities point to continuing protests by the Muslim Brotherhood and other supporters of Morsi, ousted by the military in July, as reason for the law. Morsi was elected democratically after longtime autocratic president Hosni Mubarak stepped down amid fierce protests in early 2011.