Egypt seeks to bring friendship with Russia to 'Soviet level'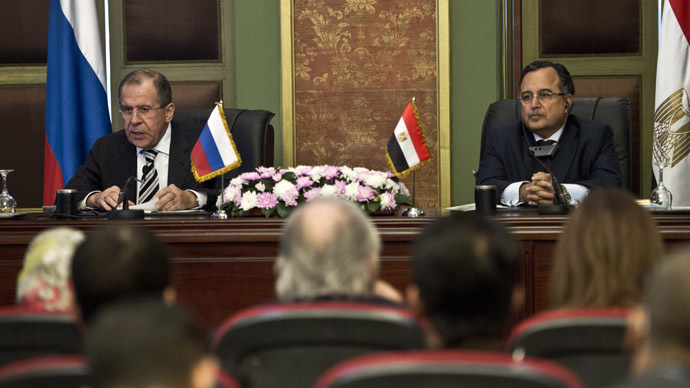 Egypt wants to develop its ties with Russia, bringing the two nations to the level of friendship they enjoyed during the Soviet era. However, Egypt is not looking to replace the US as its key ally, according to the country's foreign minister.
"We want to give a new impetus to our relations and return them to the same high level that used to exist with the Soviet Union," Egyptian Foreign Minister Nabil Fahmy said following a meeting with his Russian counterpart, Sergey Lavrov, in Cairo on Thursday.
"We believe that Russia plays an important role on the international arena. We want our relations to develop for the benefit of both states," Fahmy added.
However, the Egyptian top diplomat said that Russia was not meant to be "a substitute" for any other country. 
"Cairo wants to intensify relations. But they won't be alternative to anyone," the Egyptian FM said. He sought to refute speculation that Cairo is headed toward a major shift in its foreign policy.
Washington has remained a close ally with the country for three decades, but tensions between the two nations have mounted since the military ouster of President Mohamed Morsi in July.
Sergey Lavrov refrained from making any judgments on the political developments in Egypt, saying that Moscow is against "any foreign interference into internal affairs."
"We respect Egypt's sovereignty and the right of the Egyptians to decide on their fate," he said during a joint press conference.  "We expect that current efforts, including the development of a new constitution and a referendum on this basic law to make further progress and achieve the goals set by Egypt."
Lavrov and Russian Defense Minister Sergey Shoigu are heading the Russian delegation in the highest level visit to Egypt in years. For the first time in the history of relations between the two states, talks are being held in the '2+2' format - two top diplomats and two military chiefs.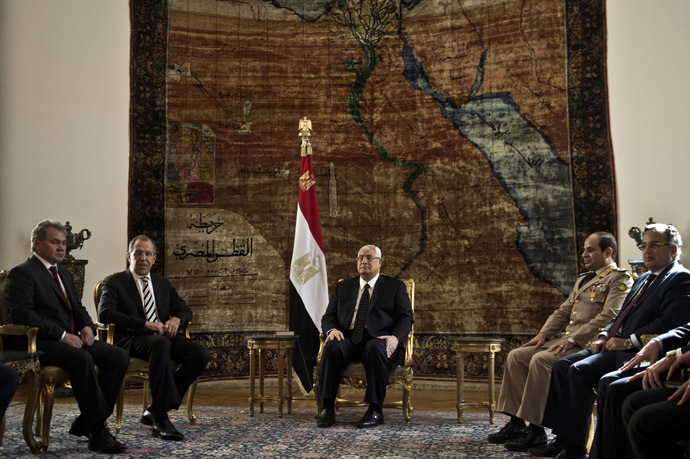 Russia, Egypt begin 'new era' in military relations
Shoigu and his Egyptian counterpart, General Abdel Fattah al-Sisi, discussed military collaboration during the talks.
"Strong and democratic Egypt will be an important factor to maintain peace in the Middle East. We hope that the situation will stabilize soon and that all problems will be solved by peaceful means," the Russian defense minister said.
The Egyptian army chief told media that the talks prove the two countries "will continue strategic relationship, which is opening a new stage in constructive and fruitful military cooperation." 
"We have common goals for ensuring fair and lasting peace in the Middle East. Our region is a heart of peace and guarantor of security and calm," Sisi said.
The two countries have agreed to hold joint military drills on countering terrorism and piracy, Shoigu said on Thursday.
"We also agreed to step up exchange of delegations and expand cooperation between the Navies and Air Forces," the Russian minister said.
Shoigu's presence at the talks sparked rumors in the media of a possible major arms deal between the two nations. According to media reports, Cairo was lobbying for around US$2 billion worth of Russian arms after the US discontinued support to Egypt's military-backed rulers. So far, there has been no official confirmation that any such deal was discussed at the talks. 
Egyptian Foreign Minister Fahmy told RT Arabic that the possibility of his country buying Russian weapons "is being considered in principle."
"Egypt-Russian relations in the military-technical area have been going on for over 30 years...Since 1970 ties and even earlier, Egypt has been purchasing weapons from Russia and also modernizing them. So, this topic is not new. An issue of buying new kinds of Russian military hardware should be thoroughly examined," he said.

Cairo was the USSR's key Arab ally for about two decades, between the 1950s and 1970s, when the Soviet Union provided then Egyptian leader Gamal Abdel Nasser with technical and military aid, particularly during the Arab-Israeli conflict. The Soviet Union also helped Egypt construct the Aswan High Dam along the Nile.

Relations between the two nations weakened in the 1970s, when Egypt's foreign policy took a U-turn under President Anwar Sadat, who brought the nation closer to the US. Washington has been contributing about $1.5 billion a year in military aid to Egypt for decades.

But following the July ouster of Morsi and subsequent crackdown on his supporters, Washington withheld deliveries of military hardware and $260 million in cash aid to Egypt. The US underlined, however, that it was not severing ties with its long-standing ally.  Secretary of State John Kerry said in October that the US would consider resuming some of the aid "on a basis of performance" following the interim government's 'roadmap' which promises to lead to fair elections, Reuters reported.

The Egyptian army-backed government slammed the "strange" decision which was made "at such a vital time during which Egypt is facing a war against terrorism."

You can share this story on social media: