Only 11% of Ukrainian soldiers opted to quit Crimea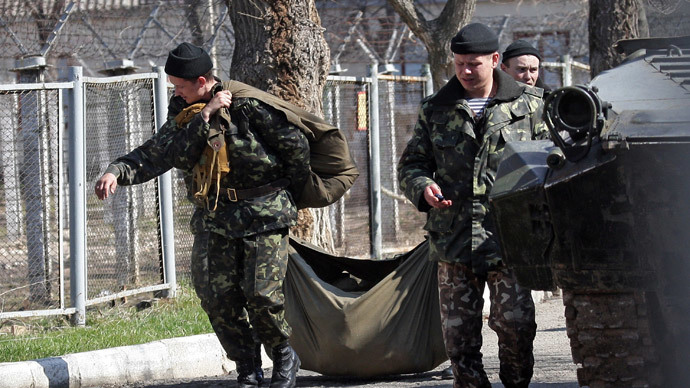 Only about a ninth of Ukrainian military personnel currently doing service in Crimea have made a decision to leave the peninsular, Russia's Defense Ministry announced on Saturday.
"As of March 21, less than 2,000 out of 18,000 soldiers of Ukrainian military forces, who are currently stationed in the Republic of Crimea, have wished to leave for Ukraine," says the Ministry's statement.

Russia's Defense Minister Sergey Shoigu has ordered the Black Sea Navy to provide safe passage to Ukraine to those soldiers, who made a decision to do so.

On Thursday, Vladimir Putin signed a decree allowing the Crimean military to serve in the Russian army, preserving the ranks they had in the Ukrainian military forces.

Ukrainian soldiers in Crimea have actually been offered three options: to swear allegiance to Russia, to receive Russian passports and stay at the peninsular as civilians, or to leave Crimea.
However, Russia's presidential envoy to Crimea, Oleg Belaventsev, said that Ukrainian soldiers are unable to leave the peninsula due to the actions of the coup-imposed government in Kiev.

According to the envoy, Ukrainian border guards unilaterally blocked the border between Crimea and Ukraine in both directions at about 14:00 GMT on Saturday.

"The aim of this provocation by the current authority in Kiev is clear – to accuse the Crimean authorities of not letting people out by force and intentionally creating tension at the border," Belaventsev said, as quoted by Russian news agencies.

By closing the border, Kiev is, in fact, "torturing" its own citizens who just want to leave Crimea, he stressed.
On Friday, Crimea and Sevastopol – which used to be part of Ukraine – officially joined Russia, with president Putin signing the finalizing decree.

Previously, Russian lawmakers ratified an international treaty with Crimea and the city of Sevastopol, which the sides signed at the Kremlin on March 18.

Crimea's rejoining of Russia was triggered by an armed coup in Kiev, which saw democratically elected Ukrainian President Viktor Yanukovich ousted.

The uprising of the predominantly Russian-speaking region of Crimea began after the new self-proclaimed authorities passed a law revoking the regional status of the Russian language.

It resulted in a referendum in which 83 percent of the Crimean population participated. An overwhelming majority of over 96 percent voted in favor of reunification with Russia.
You can share this story on social media: