​Ukrainian inspectors in Russia look for undeclared deployment of troops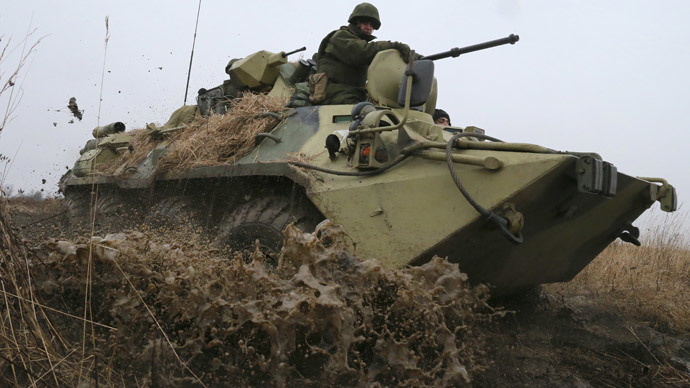 A Ukrainian national team of inspectors is to monitor a suspected buildup of troops in the west of Russia. It's the third visit of its kind in March and the last that can be conducted in 2014 under Russian international obligations.
The four-member Ukrainian team will be traveling by car across an area of about 13sq km in Belgorod and Kursk Regions along Russia-Ukrainian border to ensure that Russia is not performing any undeclared deployment of troops there. The inspectors will also perform a helicopter flyover of the area, reported Sergey Ryzhkov, head of the Russian national center for reduction of nuclear threat.
The two-day visit is being conducted under the so-called Vienna document, an international treaty for members of the Organization for Security and Cooperation in Europe (OSCE). The treaty is meant to build up trust among the members through a mechanism of voluntary declaration of deployment of troops and international inspections to verify those declarations.
"This is the last inspection event in the territory of the Russian Federation to be performed in 2014 in the framework of the Vienna document, because the quota for inspections in our territory by OSCE members has been depleted," Ryzhkov said.
The Vienna document mechanism has been in force since 1990 and has last been updated in November 2011. A total of 56 nations are participating in the mechanism. The document allows up to three annual verification inspections, no two of which may be conducted by the same state.
Previously in 2014 Russia has hosted an observation mission from Latvia and Germany between March 1 and 3, and a mission from Switzerland and Finland between March 2 and 3, according to a statement made by Deputy Defense Minister Anatoly Antonov last Wednesday. Neither delegation voiced claimed any violations on the part of Russia.
The ongoing Ukrainian inspection is carried out amid speculation in some Ukrainian media that Russia is building up its military in the west for a possible invasion of Ukraine. Moscow dismisses such reports as false.
Russia is participating in other trust-building mechanisms, which provide for foreign inspection of its military. Those include US inspections of Russian nuclear facilities under the New START treaty, which came into force in 2011 and sets a limit on a number of nuclear weapons that the United States and Russia are allowed to deploy.
Another inspection mechanism works under the Treaty on Open Skies, effective since 2002, which provides for observation flights by participants over each other's territory. The latest such flight over Russia was conducted on March 17 by a joint mission from Germany and the US.
You can share this story on social media: