AN-24 crash-landing kills 5 in Donetsk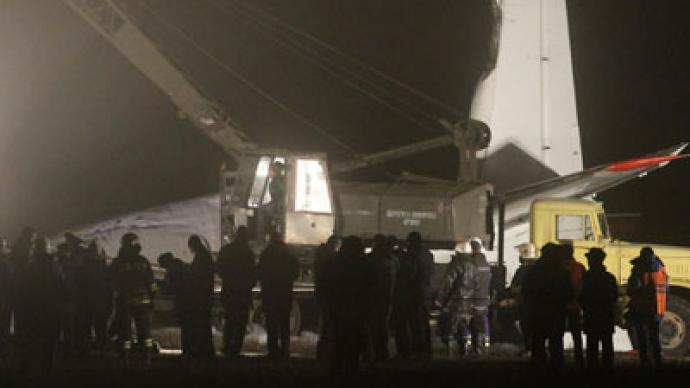 Five people have been killed after a Ukraine Southern Airlines plane crashed and caught fire during an emergency landing near the city of Donetsk. A rescue operation has been suspended despite the fact one passenger may still be missing.
The search and rescue operation was terminated after emergency crew found the body of a fifth dead passenger. There were no reports on the fate of one of the flight attendants, who was believed to be in the tail of the aircraft. "One man can be seen in the rubble, but we do not know whether he is alive or not. Still looking for one man," Donetsk region governor Andrey Shishatsky said earlier. Twelve people have been injured, the head of the region added.  According to latest official reports 44 people including 8 crew members were on board the jet en route from the Black Sea resort city of Odessa to Donetsk.Initial reports however suggested that 45 people were on board and 39 of them have been safely rescued from the aircraft. Those rescued were relocated inside the airport building. Several ambulances were dispatched to the airport.The identification of the victims may take some time, officials say."Those dead have not been identified – bodies sustained severe burns.  There are a lot of injured," Ukraine's emergency service said in its statement. 'Escaped through the crack before the fire started'So far there's no official information on the cause of the crash. Preliminary reports suggest that the plane made an emergency landing due to an engine malfunction.Thick fog conditions were also reported in Donetsk. A local media source says the plane overshot the runway and stopped in the field where its undercarriage gave way. The aircraft turned upside down and broke in three parts. The aircraft came to rest about 700m from the runway, AFP reported citing a local police source. "The plane has been ripped up," one of the passengers told RIA Novosti. "The neighbors helped me to detach the stuck seatbelt. We've managed to escape through the crack before the fire outbreak."There were reportedly football fans onboard, who were heading for the Champions League's last 16 first-leg game between Shakhtar Donetsk and Borussia Dortmund. The airport has been closed after the tragedy and is not accepting any flights. A commission has been set up to investigate the deadly crash.The Antonov AN-24 is twin-engine 44-seat transport aircraft. The An-24 does not comply with Ukraine's latest regulations imposed in 2008. This jet has no radar warning system for approaching other aerial objects, Komsomoslkaya Pravda in Ukraine newspaper reports.In 2011 Russia's then President Dmitry Medvedev called for an end to the use of Antonov-24 jets along with Tupolev-134 planes in Russia following several crashes involving those aircraft. However, the Ministry of Transportation rejected his initiative.
You can share this story on social media: