Pro-EU protesters clash with police in Ukrainian capital
Tear gas was reportedly deployed by both sides as pro-EU protesters clashed with police in Kiev. At the same time, jailed ex-PM Yulia Tymoshenko has started a hunger strike to demand the president sign the association agreement with the EU.
An estimated 200 demonstrators were staging a peaceful rally on Independence Square. There was a new attempt to seize the government headquarters Monday morning followed by scuffles with police. Protesters also tried to prevent a government car from leaving the premises.
On Monday night there was a new attempt to assault another car in the central square, reports RIA Novosti news agency. The demonstrators believed a person inside was an intelligence staffer and had been spying on them. After the crowd tried to pull the person out of the car, police advanced with clashes ensuing. Tear gas was allegedly deployed by both sides. 
A man breaks a bench to use vs police. Immediately deemed as provocator by the opposition activists http://t.co/h8Q5etfvA2

— Alexey Yaroshevsky (@Yaro_RT) November 25, 2013
Following the incident, slogan chanting renewed across the square with people shouting: "Glory to Ukraine!" and "Ukraine is Europe!" 
A heavy police presence in downtown Kiev is reported, however the streets are not blocked allowing passing drivers to honk their horns in support of the protesters.

The leaders of the opposition called on their supporters to gather on Independence Square at 6:00 pm local time (14:00 GMT) for a new demonstration against the government's decision to suspend economic integration with the EU.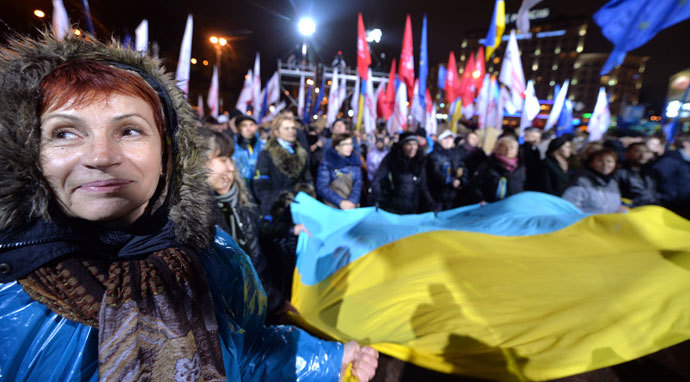 On November 21, President Viktor Yanukovych's government made a sudden U-turn, refusing to sign documents for the association agreement with the EU in Vilnius on November 28. This resulted in mass rallies across the country. In Kiev alone, some 50,000 demonstrators held two rallies, one pro- and one anti-government.

The Euro-integration rally, demanding the resignation of the government and of PM Nikolay Azarov, turned violent and ended in clashes with police, as demonstrators made several attempts to seize government buildings, throwing rocks and balls of mud at the police and tearing off officers' helmets. This rally continued through the night, with several hundred protesters remaining in a downtown camp after the disturbances.

Now Ukrainian investigators are scrutinizing video material from CCTV cameras, the spokesperson for Kiev's law enforcement agencies, Olga Bilyk said, and criminal cases will be opened. According to Bilyk, it was the protesters who used tear gas, while attacking police ranks in Sunday's turmoil.

Ukrainian officials have explained that Kiev had to suspend the EU integration talks because the country would inevitably face substantial losses from its biggest trading partner, Russia.

Ukraine risked social welfare by aligning with the EU – President

The EU has given Kiev four days to sign the agreement. November 29 would be the last day to take this decision, RIA Novosti reports quoting Stefan Fule, the European Commissioner for Enlargement and European Neighborhood Policy. Fule said there was still 'hope' a deal will be made.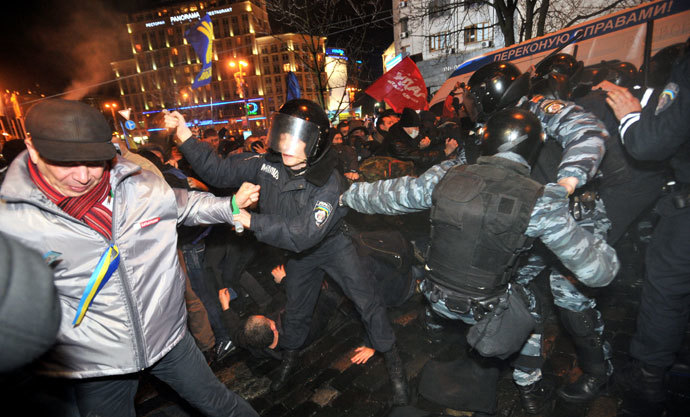 On Monday, opposition parties submitted a no-confidence vote to parliament, claiming that suspending the EU integration process contradicts the law on domestic and foreign policies. PM Azarov has said he will resign if the no confidence vote is upheld. 
Yulia Tymoshenko, the former Ukrainian Prime Minister jailed on the charges of abuse of power during gas negotiations with Russia's Gazprom, has started a hunger strike in a move to persuade the president to sign the deal.
"As a sign of unity with you I declare an unlimited hunger strike with the demand to Yanukovich to sign the association agreement," Tymoshenko said in a message read out by her defense lawyer, Serhiy Vlasenko.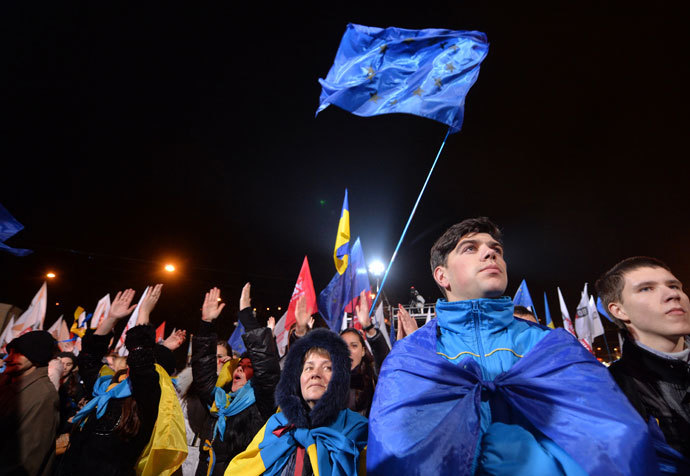 Yanukovich, in his own address to the Ukrainian people, assured the nation that "no one will steal Ukraine's dream of equal opportunities, of a European Ukraine. Likewise, no one will stand in our fair way to this dream."
He said that suspending the integration was not a simple decision to take and he risks being misunderstood on the issue.
"I did not have a right to abandon people with the problems that would arise if – under the pressure we are experiencing – production will stop and millions will find themselves in the streets," he said, adding that as the country's leader he had to ensure an interim period which would follow the EU trade agreement would not hit the most vulnerable parts of Ukrainian society.

Moscow warned that once Kiev signs the deal with Brussels, Russia would be forced to impose restrictions on Ukrainian citizens traveling to Russia, and to limit bilateral trade with Ukraine, to prevent EU goods from flowing into the Russia-led Customs Union zone.

The EU did not offer immediate benefits that would cover such losses, the Ukrainian government says.
In an interview to the Rossiya TV channel, Ukrainian PM Azarov said that Brussels had offered Kiev 1 billion euros in advance to get the association agreement signed. But simply to correlate technical standards with those of the EU, Ukraine would have had to spend an estimated 160 billion euros over the next decade, Azarov said.

"One billion euro is nothing. It's like giving alms to a beggar," Azarov said.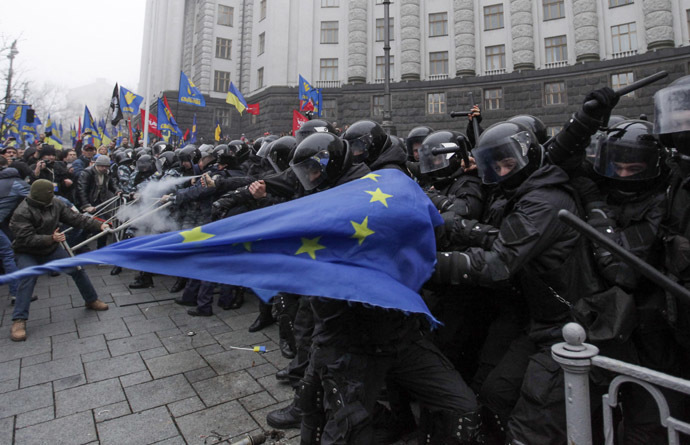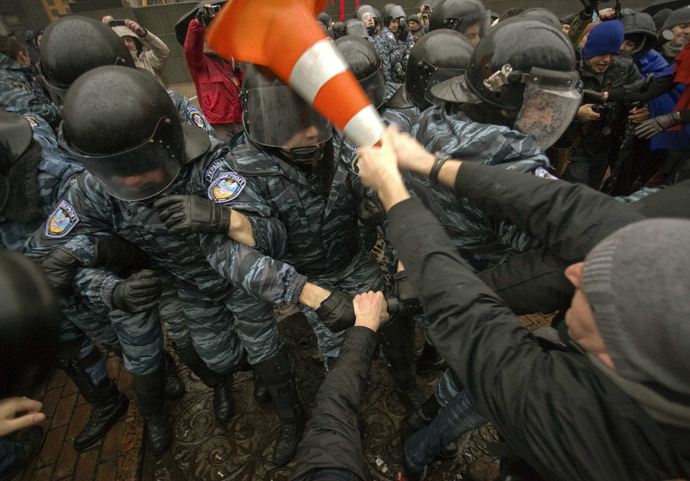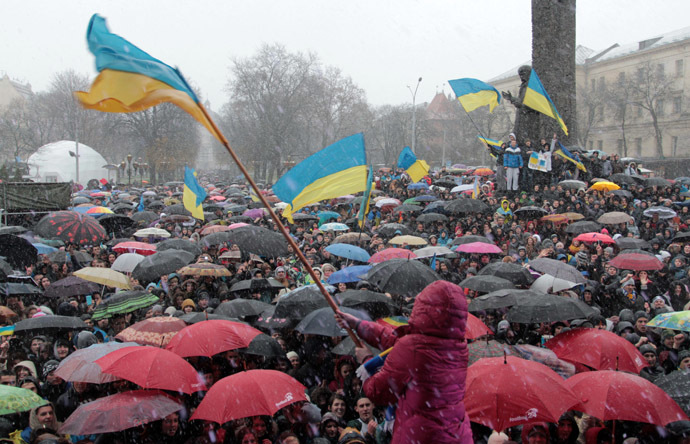 You can share this story on social media: