Attempt to jam Russian satellites carried out from Western Ukraine
An attempted radio-electronic attack on Russian television satellites from the territory of Western Ukraine has been recorded by the Ministry of Communications. It comes days after Ukraine blocked Russian TV channels, a move criticized by the OSCE.
Russian Ministry of Communications experts identified the exact location in Ukraine of the source of attempted jamming of Russian TV satellites' broadcast, RIA Novosti news agency reports.
The ministry noted that "people who make such decisions" to attack Russian satellites that retransmit TV signals, "should think about the consequences," Ria reports. The ministry did not share any details of the attack.
Earlier this week, the Organization for Security and Cooperation in Europe (OSCE) criticized Kiev's "repressive" move to halt the broadcasting of Russian TV channels after the Ukrainian media watchdog claimed that shutting down TV stations ensured "national security and sovereignty" of Ukraine.
"Banning programming without a legal basis is a form of censorship; national security concerns should not be used at the expense of media freedom," OSCE Representative on Freedom of the Media Dunja Mijatović said.
More than half of Ukraine's population speaks Russian regularly and one third say it's their native tongue. In Crimea over 90 percent of the population uses Russian on an everyday basis.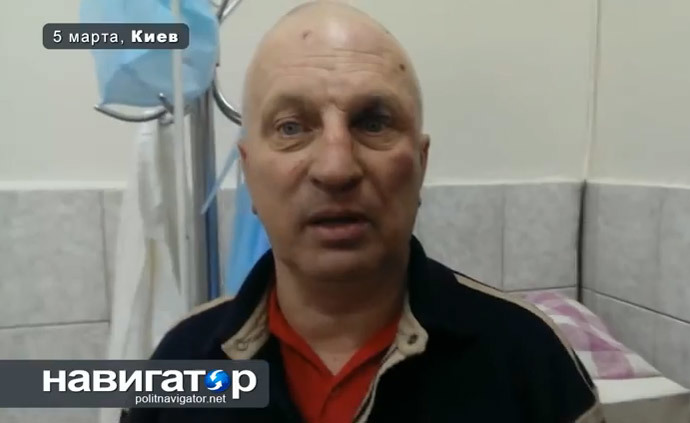 On Thursday, a number of Russian state TV channels websites suffered a large cyber-attack partially coming from Ukraine.
Russia's Channel One website was temporarily unavailable due to a distributed denial-of-service (DDoS) attack. Meanwhile, Russia-24 TV also said it suffered from a "massive network attack."
According to Itar-Tass, the targeted Russian media have connected attacks to their editorial policy of covering the recent events in Ukraine.
Russian journalists not welcome?
An international media company in Kiev said it was visited by unknown people armed with knives, who threatened the employees against working with Russian TV channels, RT editor-in-chief Margarita Simonyan wrote on Twitter.

The company, which asked for anonymity citing concerns for own safety, said it could no longer work with RT.
Intimidation and threats to journalists have lately become common practice in Ukraine with several Russian journalists coming under attack from radicals, says RT correspondent Marina Kosareva.
"We have countless of reports of journalists being attacked by those radicals that we've seen on Maidan Square as well," she said.
Kosareva cited as an example an incident on March 5 with a pro-Russian journalist, Sergey Rulev who was beaten up and threatened by Ukrainian nationalists "just because he dared to interview riot police [Berkut]."
A correspondent for Russiya-24 TV channel, Artyom Kol said he was repeatedly threatened by ultra-nationalist group Right Sector who placed him on a 'wanted list' on February 22.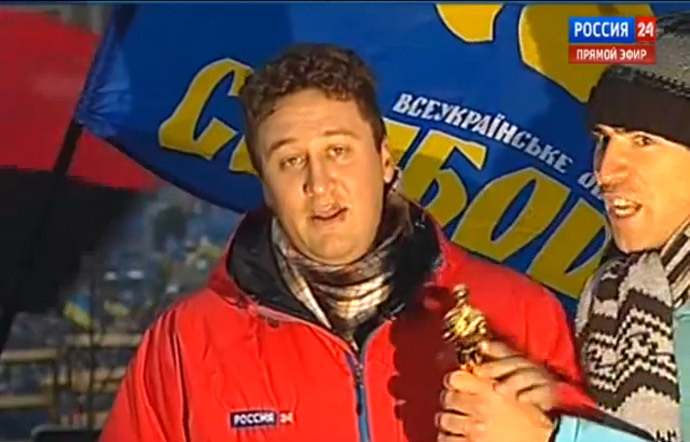 "I have been receiving numerous threats since the Right Sector put me on the wanted list on their website offering a reward for my capture," Kol said. "Within a few hours the message was reposted tens of thousands of times," the journalists said, adding that he was thankful to people in Kiev who do not support radicals and offered to shelter him from them.
On a number of occasions over the last month, Russian journalists were denied entry into Ukraine. On Saturday a photo-journalist from the Russian daily Kommersant, Vasily Shaposhnikov, who was heading to Kiev, was not allowed into the country.

"At customs control they took away my passport and then I signed a paper, saying that I was banned from entering Ukraine, with no reasons specified," said Shaposhnikov, who on Saturday morning took a flight back to Moscow.

Two days earlier, two Kommersant reporters were taken off the train going from Moscow to the Ukrainian city of Nikolayev. The official reason for not allowing them into the country was that they did not have return tickets with them and a sufficient sum of money. According to the new rules of entry, introduced December 4, each foreign citizen traveling to Ukraine must have with them around 3,000 rubles ($85) per day.
On March 7, several Russian TV crews were denied entry into Ukraine at the Donetsk airport, prompting a protest by Russia's Foreign Ministry.
"This outrageous example of violation of freedom of the press proves the hypocrisy on the part of those, who now in Kiev try to represent themselves as democrats… Actually, this is censorship of the mass media," the ministry's statement reads.
You can share this story on social media: