Russian media websites hit by 'massive' DDoS attack 'linked to Ukraine'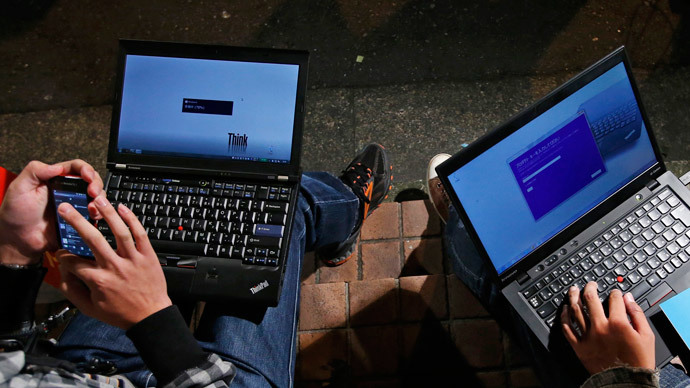 Websites of several Russian state TV channels have been hit by a large cyberattack suspected to partly come from Kiev. Anonymous Caucasus claimed it was responsible for hacking Channel One TV's site, saying it had "nothing" to do with Ukraine.
Russia's Channel One on Thursday said its website was temporarily unavailable due to a distributed denial-of-service (DDoS) attack.

"The website of the channel was unavailable from 12:15 to 13:53 Moscow time due to a DDoS attack from Kiev," a spokesperson for the channel told Itar-Tass, adding that the page was now working normally.

However, as of 6pm Moscow time (2pm GMT), 1tv.ru was again unavailable due to a new attack wave.

Meanwhile, the Russia-24 TV channel said on its website that the internet resources of the All-Russian State Television and Radio Broadcasting Company (VGTRK) were also targeted in a "massive network attack." Due to the distributed nature of the attack, the media did not immediately comment on its origins.

According to Itar-Tass, the targeted Russian media have connected attacks to their editorial policy of covering the recent events in Ukraine.

About an hour after the start of the DDoS attack on Channel One's website, Anonymous Caucasus hacker group proclaimed 1tv.ru "tango down" on its Twitter page. While the group did not issue a statement claiming responsibility for the attack, this army slang phrase has been routinely used by Anonymous and other hacktivist groups to report bringing down a target.

The group then tweeted that their actions had "nothing to do with Ukraine, or all current events in this country, and we are not waiting for anyone."

Earlier this week, Anonymous Caucasus claimed responsibility for disrupting the work of Russian internet news media LifeNews. The group branded the media "lapdogs of [Russian security service] FSB." It also claimed it took part in attacks on Syrian government websites in February.

Distributed denial-of-service attacks have been routinely used by hackers for temporarily bringing down websites by means of chocking their accessibility with a flurry of requests. Recently, the power of such attacks has dramatically increased. Using network protocol vulnerabilities of a large number of personal computers and servers, the hackers have learned to "amplify" DDoS traffic to a staggering 400 gigabits per second. Anonymous Caucasus claimed it managed to unleash a 250 Gbps attack on LifeNews.
You can share this story on social media: