MI6 chief: Snowden leaks 'damaging,' put intel ops 'at risk'
The head of MI6 Sir John Sawers told the committee of MP's and peers that Edward Snowden's leaks have been "very damaging" and have put operative's lives at risk. He also blamed the Guardian for publishing material that compromised national security.
"The leaks from Snowden have been very damaging, they've put our operations at risk," Sawers said at the unprecedented hearing before the parliamentary Joint Security Committee. "It's clear that our adversaries are rubbing their hands with glee, al-Qaeda is lapping it up." 
Sir John accused journalists who published the materials leaked by NSA former contractor Snowden of being irresponsible.
"I'm not sure the journalists managing these publications are particularly well placed to make that judgment," he told the peers.
Edward Snowden revealed classified details of US, British and Israeli top secret surveillance programs that harvested data from the communications of all citizens, regardless of any previous suspicion or guilt.
The Intelligence and Security Committee was convened to allay public fears that Britain's intelligence agencies are unaccountable and are operating outside the law. It has already carried out a limited investigation into claims that GCHQ used the American National Security Agency's vast Prism program, to circumvent UK laws
The MI6 chief's warning was backed up by the head of GCHQ, Sir Ian Lobban who said the global media coverage as a result of Edward Snowden's leaks has made their job "far harder" for years to come.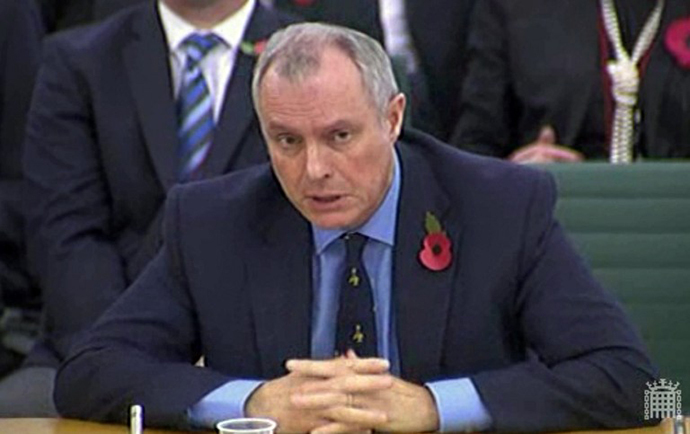 "We have actually seen chat around specific groups, including closer to home, discussing how to avoid what they now perceive to be vulnerable communications methods, or how to select communications packages that they now perceive not to be exploitable," Lobban said.
He added that he would be more specific with MPs in private.

'We do not snoop on the majority'

Lobban rejected the notion that UK spies are monitoring the e-mails, or phone calls of the innocent majority of UK nationals and foreigners, saying "that would not be proportionate, that would not be legal, and we would not do it."
Lobban compared hunting for terrorists and people who pose a threat to UK national security like looking for a needle in a hay stack.

The internet was "an enormous hay field", Lobban said adding that his job was to "collect hay from those parts of the field which might be lucrative in terms of containing needles or fragments of needles". The spy agency did not "intrude upon the surrounding hay", much of which is "innocent."

"I'm looking for needles, I'm looking for fragments of needles. I do not look at the hay," he stressed.

Sawers explained that only 10% of British intelligence resources are spent on espionage by foreign states, the rest is all directed at terrorism.
'I see Home Secretary 2-3 times a week'
Andrew Parker the head of Britain's domestic spy agency MI5 answered a range of questions about the home grown terror threat facing the UK.
Since the July 7, 2005 London bombing the terrorist threat facing the UK has "diversified", he said.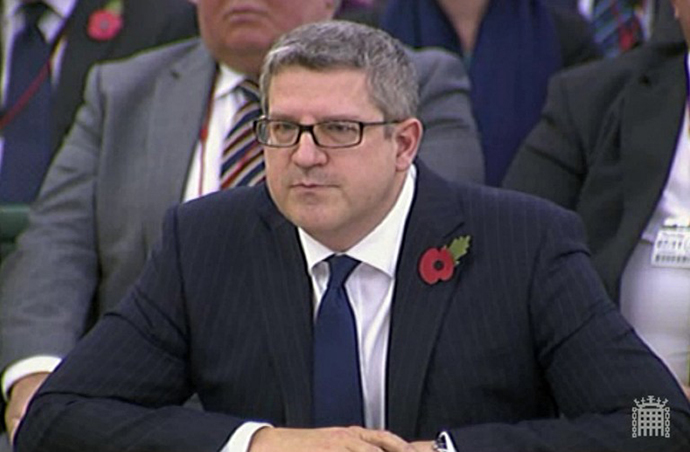 Since the 7/7 London attacks, there have been 34 attempted terrorist plots in the UK that have been successfully disrupted by intelligence, some of them major plots which involved targeting large numbers of people. The vast majority of these plots came from people living in the UK, Parker told the committee.
Sir Malcolm Rifkind, who was chairing the meeting, asked Parker whether the huge £2 billion budget the intelligence agencies receive annually, more than during the Cold War, was merited and if the agencies might being compromising freedom and democracy.
Parker rejected this notion, saying, "the suggestion that somehow what we do is somehow compromising freedom and democracy, of course we believe the opposite to be the case."
"In the six-months as DG of MI5 this is my fourth formal appearance before this committee. I've submitted hundreds of pages of detailed material about our work. I've had three visits from commissioners. I see the Home Secretary 2-3 times per week," he added.
While the three intelligence chiefs were grilled in the parliament, down the road in the High Court David Miranda's lawyers were arguing that his detention at Heathrow Airport was unlawful. 
Miranda, the partner of former Guardian journalist Glen Greenwald, was detained as he passed through Heathrow on August 18, having met film maker Laura Poitras, who had been involved in the revelations leaked by Edward Snowden.
Miranda's legal action is against the home secretary and the commissioner of the Metropolitan Police, who detained him for the maximum nine hours allowed under the Terrorism Act. Lawyers for the Home Office say that he was potentially endangering national security and lives could have been endangered if the material he had with him was made public. 
Meanwhile on Thursday, the UK Foreign Secretary refused to comment on reports that it has a listening post in Germany, over which Berlin summoned the UK ambassador for an explanation on Tuesday.  

"I do not confirm or deny allegations, things that are said about our intelligence agencies. That's for very, very good reasons even when there are things that are not true at all," Foreign Secretary William Hague said in an interview on UK's Channel 4 News.

Snowden's stolen NSA documents revealed that Government Communications Headquarters (GCHQ) eavesdropping center was functioning in the British Embassy in Berlin. It was also alleged the British have taken over the operations from the NSA when it was revealed the US was hacking the phone calls of German Chancellor Angela Merkel.


You can share this story on social media: