UK: Greenwald's partner involved in 'espionage' and 'terrorism' in carrying Snowden docs
British law enforcement said in official documents that the domestic partner of reporter Glenn Greenwald was involved in espionage and terrorism when he tried to carry documents from former NSA contractor Edward Snowden through a London airport in August.
David Miranda was detained and questioned for nine hours at London's Heathrow Airport on Aug. 18 while traveling from Germany to Brazil. Once back in Brazil, he filed legal action against the British government, asking for a judicial review of the detainment and demanding that materials seized from him by British authorities be returned.

At a court hearing for Miranda's lawsuit this week in London, a document called a "Ports Circulation Sheet," prepared by Scotland Yard in consultation with the MI5 counterintelligence agency, was read into the record, Reuters reported.
The Sheet was given to British border posts ahead of Miranda's arrival in August, though the exact date of the document is unclear.
"Intelligence indicates that Miranda is likely to be involved in espionage activity which has the potential to act against the interests of UK national security," the document states.
"We assess that Miranda is knowingly carrying material the release of which would endanger people's lives," the document says. "Additionally the disclosure, or threat of disclosure, is designed to influence a government and is made for the purpose of promoting a political or ideological cause. This therefore falls within the definition of terrorism..."
Miranda was released without charges in August, though British authorities said they had started an unspecified criminal probe after reviewing the materials taken from him. Those materials include electronic media containing 58,000 documents taken from the US National Security Agency (NSA) and Britain's Government Communications Headquarters (GCHQ).
The documents, which detail why British law enforcement targeted Miranda, came to light during a preliminary hearing this week. A hearing on Miranda's legal challenge is scheduled for next week.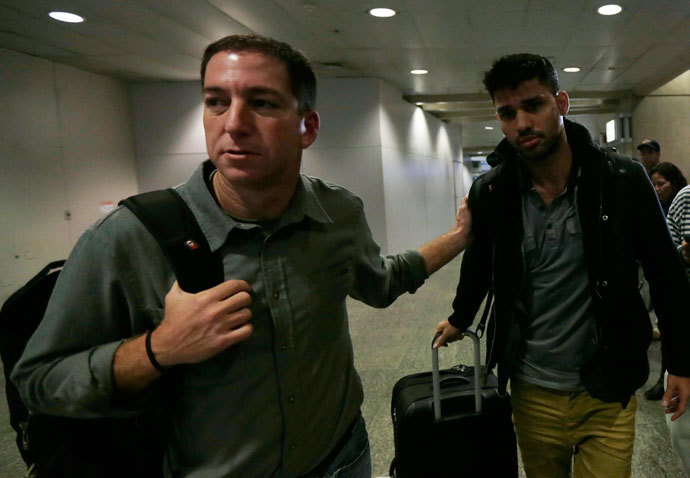 Greenwald - who reported on the NSA leaks for the Guardian until recently agreeing to join an unnamed news venture - has said that his domestic partner Miranda was carrying Snowden documents when detained at Heathrow.
Greenwald condemned British authorities for labeling Miranda's actions as "terrorism."
"For all the lecturing it doles out to the world about press freedoms, the UK offers virtually none...They are absolutely and explicitly equating terrorism with journalism," Greenwald told Reuters.
A different document read into the record in Miranda's case indicated that British authorities' interest in Miranda came from the assumption by MI5 that he was carrying material between Greenwald and Berlin-based filmmaker Laura Poitras, who has assisted Greenwald in reporting the Snowden leaks.
"We strongly assess that Miranda is carrying items which will assist in Greenwald releasing more of the NSA and GCHQ material we judge to be in Greenwald's possession," states the document. The document has been described as a "National Security Justification" prepared for police.
"Our main objectives against David Miranda are to understand the nature of any material he is carrying, mitigate the risks to national security that this material poses," the document reads.
A British embassy spokesperson in Washington would not comment on the court case or the documents.