UK drafts resolution blaming Assad for 'chemical weapons' attack
Britain has drafted a UN Security Council resolution condemning the Assad regime's alleged use of chemical weapons. In spite of uncertainty over who was behind last week's attack, Western powers are insisting the Syrian government was responsible.
UK Prime Minister David Cameron announced the resolution would be tabled in New York later Wednesday on his Twitter feed.
3/3 The resolution will be put forward at a meeting of the five permanent members of the Security Council later today in New York.

— David Cameron (@David_Cameron) August 28, 2013
Cameron said the resolution would condemn "the chemical weapons attack by Assad" and authorize "necessary measures to protect civilian lives." He also stressed that any intervention in Syria would have to be "legal, proportionate" and aimed at minimizing further loss of life.

Earlier this week, British Foreign Secretary William Hague said that the unanimous backing of the UN Security Council could potentially be sidestepped, given the extreme circumstances.

The Syrian government has faced a barrage of accusations from the West, alleging the government of President Bashar Assad was behind the alleged chemical weapons attack last Wednesday in the Damascus neighborhood of Ghouta. 
French charity Medecins sans Frontieres (Doctors without Borders) reported that 355 people died in the attack.  
The Syrian government also maintains that it is the rebels that are using chemical weapons and not the government.  Syria's Deputy Foreign Minister, Faisal Maqdad, slammed the US, UK and France for helping rebel groups use chemical weapons.
"We repeat that the terrorist groups are the ones that used [chemical weapons] with the help of the United States, the United Kingdom and France, and this has to stop," he said. "This means these chemical weapons will soon be used by the same groups against the people of Europe," stressed Maqdad.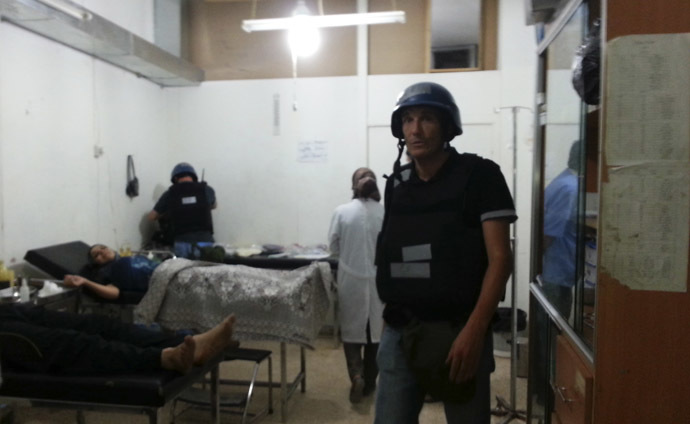 The new evidence comes as the US, UK and France are drawing up possible plans for a military response against Syria.

Western media, citing US and UK government sources, have speculated about what form a possible targeted missile strike might take. Fox News said that a targeted missile strike would likely be launched from American and British ships stationed in the East Mediterranean on Thursday night.

A number of news agencies, including Russia's Interfax and RIA, quoted  Carla del Ponte, a member of the UN Independent International Commission of Inquiry on Syria,  as saying that evidence from witnesses indicates Syrian rebels used a chemical weapon in last week's attack, not regime forces. However, it appeared that the reports referred not to the latest attack, but to comments made by del Ponte in May about an alleged attack in March. 
Britain's parliament has been recalled from summer recess for an emergency debate on Thursday to decide on an appropriate course of action for Syria.


Russian opposition to intervention

Russia opposes any foreign military intervention in Syria and has reiterated on a number of occasions that there is no concrete evidence the Syrian government was behind last Wednesday's supposed attack.

Russian Foreign Minister Sergey Lavrov warned the West that any attempts at military intervention would trigger further "destabilization" and could be catastrophic for the Middle East. The Russian government has also urged the international community not to jump to any conclusions while UN investigators are carrying out their probe into the attack.

A team of UN experts is currently at the site of the Ghouta attack in an attempt to discern who was behind the alleged chemical weapons attack. In spite of doubts that too much time has elapsed since the incident for the probe to be accurate, the team insists it has enough evidence to come to a valid conclusion.

You can share this story on social media: