Syria FM: Foreign strike 'would not stop' fight against terrorists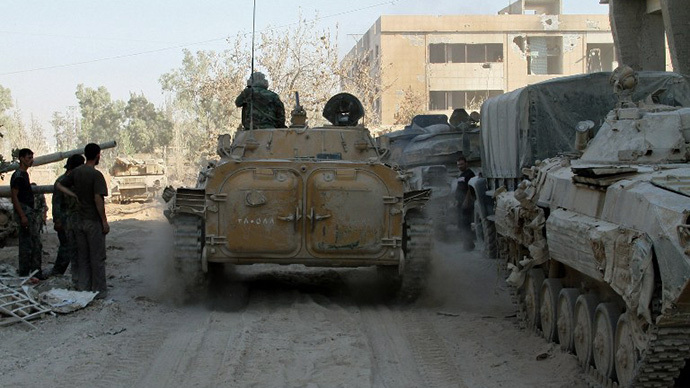 Despite threats of international intervention, Damascus will continue its military efforts against the rebels, Syria's Foreign Minister has said. Decrying plans for a foreign strike as "deluded," he said any attempt to hinder the Syrian army would fail.
Speaking at a press conference in Damascus, Walid Muallem condemned western allegations that the Syrian government had used chemical weapons on its own citizens as "a lie."

"No country in the world uses weapons of mass destruction against its own people," said Muallem.

He also rejected claims that the government had delayed the UN inspectors' probe of the Ghouta site.

"The UN team did not ask to go to site until Saturday," said Muallem, stressing that government permission was granted Sunday. Muallum went on to say that the UN team's mission had been temporarily put on hold until Wednesday as a safety precaution after unidentified snipers opened fire on the inspectors on Monday.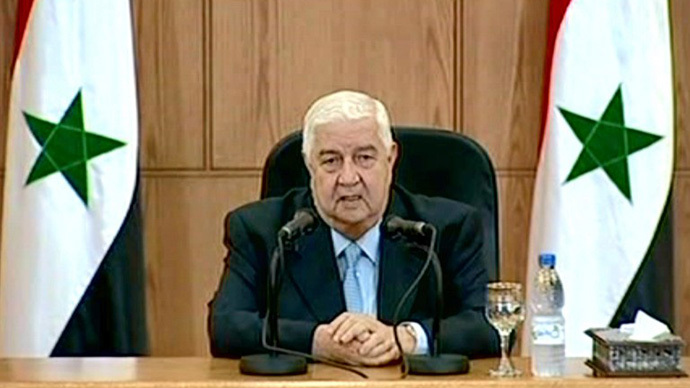 Reports emerged of a large-scale chemical weapons attack in the Damascus suburb of Ghouta last Wednesday, prompting the condemnation of the US, France and the UK, who laid the blame at the feet of President Bashar Assad.

Since the alleged attack, there has been a growing push from Washington, London and Paris for a possible targeted strike on Syria.

Muallem said that regardless of any strike on Syria, the army would continue its fight against the rebels.

"The [government's] military effort will not stop around Damascus. If the purpose is to limit the victories of our armed forces, they will not be successful," said Muallem, adding that a foreign strike would only play into the hands of Al-Qaeda-affiliated terrorist groups operating in Syria. 
He described the use of chemical weapons as an excuse for foreign powers to intervene and warned Syria would retaliate if attacked.
"We have two options: either to surrender, or to defend ourselves with the means at our disposal. The second choice is the best: we will defend ourselves," Muallem said at the televised news conference.

UK Prime Minister David Cameron stated on Tuesday that parliament has been recalled from its summer recess to make "a clear Govt motion & vote on UK response to chemical weapons attacks."
Speaker agrees my request to recall Parliament on Thurs. There'll be a clear Govt motion & vote on UK response to chemical weapons attacks

— David Cameron (@David_Cameron) August 27, 2013
Downing Street also released a statement saying that contingency plans for military action were being drawn up in the wake of last Wednesday's suspected chemical weapons attack.
You can share this story on social media: