UK PM paves way for EU referendum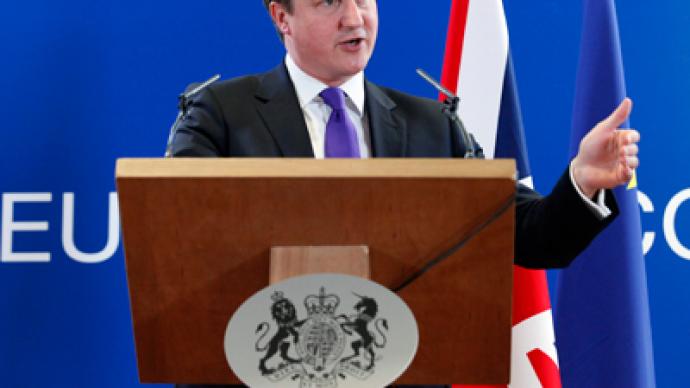 British PM David Cameron has laid the foundation for a possible referendum on the UK's EU membership, saying that "voters deserved a real choice." He fears that UK interests might be undermined by EU legislation and said it was time for a change.
In an interview with the Sunday Telegraph, Mr. Cameron said he was not against referendums on Europe, arguing that "the British people were not happy with what they have.""The last government should have held a referendum on the Lisbon Treaty. They didn't, so this Government put in place a referendum lock so that no government can ever again pass powers from Britain to Brussels without first asking the British people," he told the daily.He cited EU bureaucracy and the so-called "meddling" in the internal affairs as something that needed to be "scrapped" in his view."So what is wrong with what we've got? Put simply, for those of us outside the eurozone, far from there being too little Europe, there is too much of it," he stressed.Alluding to Friday's summit, he said that the relationships in the EU were changing, giving rise to further integration to ensure the stability of the single currency. However, the UK has shown it can stay out of integration and things "that we don't like such as bail-out funds."Despite being a member of the EU the UK has long held off against further integration. There are concerns that a more centralized banking system administered from Brussels would undermine UK sovereignty. "As we get closer to the end point, we will need to consider how best to get the full-hearted support of the British people whether it is in a general election or in a referendum," Cameron concluded.
Pressure building
There has been growing pressure from Cameron's conservative party for an EU vote in recent times. Last week party members sent a petition with 100 signatures to the PM, calling for Cameron to prepare legislation committing the country to an EU vote after the next election. In addition, anti-EU sentiment has been growing in British society since the beginning of the European debt crisis. A survey carried out by UK newspaper The Times found that 49 per cent of those asked wanted an immediate referendum on British membership, and a further 33 percent said one would be necessary in the next couple of years.Only 18 percent of the 2,006 asked at the beginning of June regarded an EU referendum as unnecessary in the foreseeable future.The UK PM's statements came after Friday's EU summit, which agreed on less stringent borrowing condition for European banks in a bid to stimulate growth. It also approved the creation of a permanent bailout scheme, allowing Brussels to deliver cash injections directly to flagging banks, avoiding government taxes.Eurosceptics have voiced concerns that the new measures to not directly address the financial downturn are merely postponing the crisis.