UK troops in Gulf part of move 'to encircle Iran'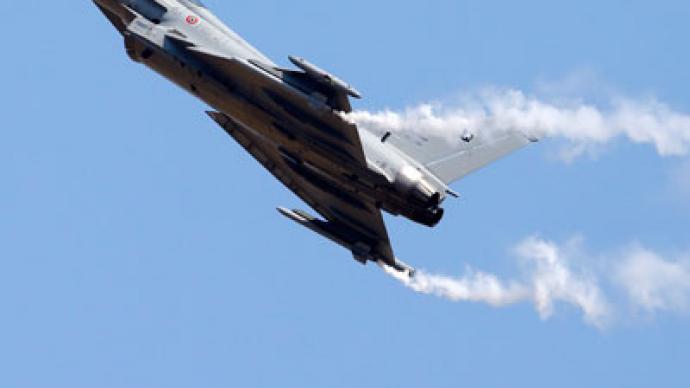 AS British PM Cameron eyes up defense co-operation with the UAE, wider British and US plans to increase their armed forces in the Gulf may be part of a geopolitical move to encircle Iran and expand NATO.
David Cameron, the Prime Minister, announced the possible deployment on Friday ahead of a visit to Oman where he is expected to conclude a 2.5 billion dollar deal with the Omani government for 12 Typhoon fighter jets. These are the latest sales of a plane the Prime Minster has said he is "very keen" to promote. Saudi Arabia already has 72 of the aircraft and Cameron wants to set up a defense partnership with the United Arab Emirates which could involve an order for up to 60 more. "What you are seeing specifically with the United Arab Emirates is not just a plan to sell Typhoon aircraft, but a big, significant defense co-operation, which could lead to more British troops stationed in the country," Cameron told journalists at camp Bastion in Afghanistan on Friday. "This is an exciting possibility for both countries to have a proper strategic defense relationship, a defense partnership, and I think that's the way the world is going. People don't just want to just buy equipment now, they want to have a proper industrial and defense partnership," he continued.However Patrick Henningsen, a geo-political analyst, told RT that one of the reasons for beefing up the British and American presence in the region could be to launch air attacks on Syria and ultimately Iran. "They [the west] are blaming Iran for a possible nuclear arms race in the region, that's a quote from David Cameron only a few days ago. The encirclement of Iran is certainly on a geopolitical scale, number one priority.The question is, is this going to be a real military standoff or are we looking at a cold war situation, where we're just posturing," he said. Henningsen continued that while the British and Americans are happy to base their armed forces in the region and keen to sell the Gulf States weapons, they are silent on recent human rights abuses of Bahrain and Kuwait.Cameron's comments tie in with the views laid out last week by Britain's top military officer, General Sir David Richards.
Sir Richards said he foresaw Britain making more use of drones and forming closer alliances with friendly states in troubled areas such as the Gulf.He signalled that two or more of the army's seven "adaptable brigades" could form "close tactical-level relationships" in the region. That's despite biting defense cuts, which will reduce the size of the British army by almost 1/5 within a couple of years. Britain already has a small military presence in the Emirates, Bahrain and Qatar. But Henningson believes that the west is in-fact trying to expand NATO into the Gulf. "I believe that they [the west] are looking to arm them [the Gulf Sates] and enfold them into NATO to become another name or another treaty signed, which is a bigger military organization. A lot of critics say this pertains to one world army or a world police force," he said. Cameron's announcement that he is eyeing up the Gulf region, comes days after Britain said it would bring 4000 troops home from Afghanistan at the end of next year before the 2014 deadline. However, the Prime Minster said there had been little progress in talks with the Taliban and said instead the focus would be on trying to bring Pakistan and Afghanistan together.