UK austerity spurs switch to junk food, studies say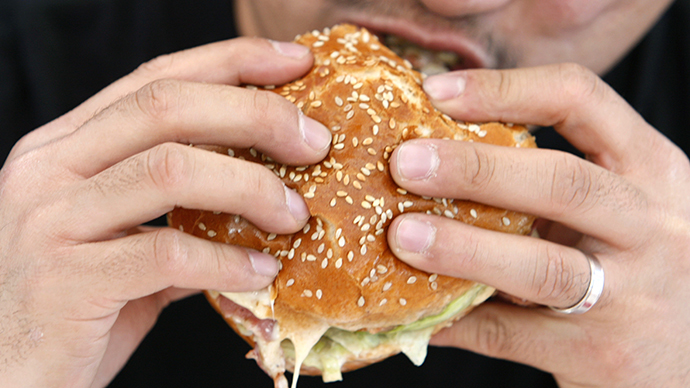 As Britain continues to suffer from a slump in real wages, the population is moving away from the consumption of fresh produce and is instead resorting to fatty, sugary or processed foods, according to new research released Monday.
The reports, titled 'Food Expenditure and Nutritional Quality over the Great Recession' and 'Gluttony in England? Long-term Change in Diet,' were published by the Institute for Fiscal Studies (IFS).  They outline how the rising costs of healthy foods, combined with rising unemployment rates, are pushing people towards the increasing consumption of produce high in fats and sugar - despite a somewhat puzzling decrease in the total number of calories being consumed.

"We find that, on average, across a number of measures, the nutritional quality of foods purchased declined from 2005-07 to 2010-12," the IFS stated.

UK residents are spending approximately 8.5 percent less on food in real terms than they were prior to the recession. The economy is starting to display signs of recovery but real wages remain low, with prices still rising more quickly than wages, according to September figures from the Office for National Statistics.

"Our estimates suggest that calories purchased for eating outside the home and in soft drinks, confectionery and snacks have increased for all household types," said the study.

In August, House of Commons Library statistics illustrated that there has been a 5.5 percent drop in real wages since 2010, meaning that only Greek, Portuguese, and Dutch wages saw a deeper deterioration over the same time period.

September's Consumer Price Index data illustrated that inflation has remained at 2.7 percent – the same figure as August, and reflective of the 12 month rate from September 2012.

"This means that a basket of goods and services that cost £100.00 in September 2012 would have cost £102.70 in September 2013," the Office of National Statistics said in a statement released alongside the figures.  

However, the IFS study found that "there has been a fairly substantial decline in calories purchased," identifying the pattern as being across-the-board for all types of households.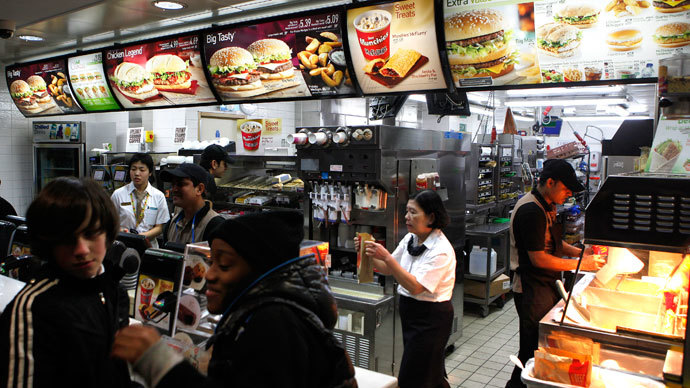 Families with children saw the biggest increase in consumption of sugary foods, while older generations (in the 50+ bracket) saw a higher consumption of food high in saturated fat.

"Pensioner households, single-parent households and households with young children saw the largest declines in the nutritional quality of the foods purchased between 2005–07 and 2010–12." the IFS said.

According to 2011 health data from the Organisation for Economic Co-operation and Development (OECD) cited by the report, over 25 percent of UK adults are obese and 70 percent are overweight.

"The average weight of an adult male has increased by 8.6 kilograms and the weight of an adult female by 7.9 kilograms over the same period [1980-2009]," the study found.

According to a YouGov survey also released on Monday, 25 percent of British people are eating less meat this year than in 2012. Two percent said they were eating more, while 17 percent said they do not eat any meat at all.

Britain's Conservative government has fallen under sharp criticism since the beginning of its term in office, after a stream of austerity measures were introduced. The sweeping measures – the most severe since World War II - were unveiled in October 2010, slashing public sector jobs and benefits, and cutting budgets.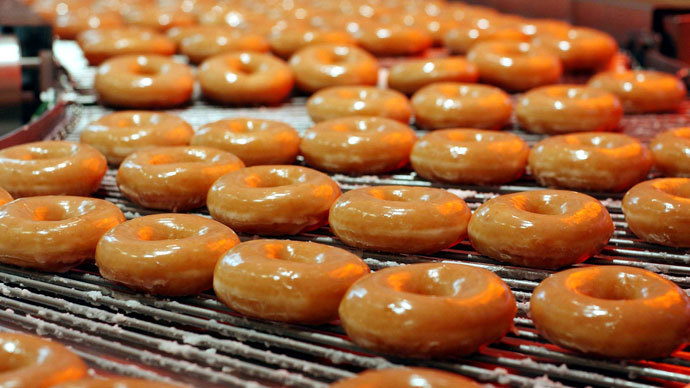 It emerged towards the end of October that over five million people are paid less than the living wage in the UK – although some measures are being taken to remedy that situation. A rise of some £400 per year for around 30,000 low-paid workers was announced on Monday.

"This is an emergency about more than statistics. It is about real people who work hard — full and part time, often in multiple jobs or on zero-hours contracts — and can't make ends meet," opposition leader Ed Miliband wrote in the Evening Standard on Monday.

People have been attempting to cope with the need to economize by buying less food and selecting cheaper products, which often have lower nutritional content. However, the study also recognizes that the English consume between 15 and 30 percent fewer calories in total than in 1980, and suggests that increasing obesity rates could be attributed to a more sedentary lifestyle.

You can share this story on social media: