Student clashes as UK parliament says yes to fees hike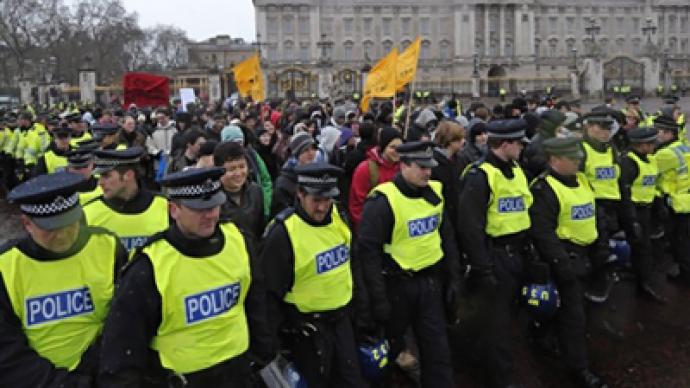 London is clearing up following another day of violent student protests that are being described as the worst unrest the capital has seen in a decade. The clashes broke out as lawmakers approved a hike in university fees on Thursday.
The streets, where tens of thousands of angry students marched towards parliament, are returning to normal, with barriers being put back up around Parliament Square and broken windows being repaired.The Treasury and the Supreme Court were vandalized. Windows were smashed and some of the protesters tried to get inside.The Metropolitan Police reported 34 arrests for a variety of offences ranging from violent disorder and arson to criminal damage.At least ten officers were taken to hospital, one seriously injured – he was knocked unconscious during a scuffle. Some 38 protesters were also injured in the demonstration.The police issued a strong statement following the rally saying their officers had come to work to facilitate a peaceful demonstration, but were met by a barrage of violence. Protesters were throwing fences at them, and missiles such as bottles.The majority of action was around the Houses of Parliament, however some protesters broke away to the main shopping streets of London.Demonstrators locked themselves inside Top Shop's flagship store and vandalized it. The store had also been attacked last weekend. They were protesting against Top Shop owner Phillip Green. He is accused by the demonstrators of registering some of his companies offshore to avoid paying UK tax. Some of the demonstrators see his alleged actions as a symbol of what they are fighting against: the rich few taking advantage of their position in order not to pay taxes, making less-well off people pay more and contributing to the need for government cuts.Members of the RMT union, one of the most powerful trade unions in the country, joined the student protests which were taking place not just in London, but around the country. The hike in fees was backed on Thursday by a reduced majority of 21 votes. Even before the government voiced its decision, small groups of protesters at the London rally threw flares, billiard balls and paint bombs at police. Officers, some on horses, reinforced the security cordon. Members of the British royal family were also targeted by protesters. A car taking Prince Charles and his wife Camilla to the theater was attacked – one of its windows was smashed and the vehicle was covered in paint. The police seem determined not to let the protesters get away with the attack on the royal family or the Treasury. On Thursday night, when officers were dispersing the demonstrators, they fed some onto a bridge and let them out one by one so they could identify the suspects who vandalized the Treasury, based on CCTV pictures.Adam Lambert, a former student, says his education did not cost him anything like what the UK government has voted for. He believes lots of students will not be able to afford higher education."Nine thousand pounds a year will prevent thousands of ordinary people from going to university," he said. "They are making an education system which is only available for the rich. There is another example… the government is trying to make ordinary people pay for a crisis which the rich created."Another student, Sarah Creagh, says the government's decision is violence and it will destroy people's lives."Well, I think that what we have seen is the real violence… And I think the real violence comes from the government," she said. "They are completely smashing up our education system, smashing up entire public services."Many commentators are saying that these protests are just the beginning of what will be a winter of discontent for Europe. One of them is Chris Knight, a professor at the University of East London and a frequent demonstrator. "For me this is the spirit of 1968 come again," he said. "In 1968 we saw it in Paris and Prague, young people leading this struggle for freedom: first the students moved, then the workers. This is exactly what's happening here, except I think it will be on a much bigger scale, all across Europe."There has been a series of protests in Europe this year, starting last summer when rallies were held in Greece, Spain and France. There was also a large demonstration in Ireland this week, as the Irish parliament voted for the toughest budget in its history to secure the $114 billion bailout from the IMF and EU.Thursday morning's papers reported that Allied Irish Banks, which has been bailed out, plans to pay 40 million euros in bonuses to employees next week – immediately in the wake of that austerity budget – news which has added to the anger. Germany, which is paying the biggest part of the European bailouts has witnessed anger too.German taxpayers do not agree that they should bailout other countries that cannot effectively manage their finance.Sam Bowman, research manager at Adam Smith Institute – a free-market think-tank – believes 2011 will be a very difficult year for the eurozone. "It wouldn't take a genius to see that there is a crisis approaching in the eurozone a major continent-wide crisis. I think it is probably because of the government debts… So I think we are probably going to see quite a difficult year for the eurozone, if not the end of the eurozone," Bowman said.He sees a possible solution in returning to the previous economy model, with countries reverting to their former currencies. "I think the sooner the better really. I think we need to start looking to the future, looking at how countries can return to their old currencies, turn to a way that they are able to get out of these kind of high or low interest bubbles that the euro was creating and get into a position where they have a currency which suits their own economy."
Lee Rotherham from the Taxpayers Alliance says that the current situation is not unexpected. "It's been rather off the radar of late, and frankly it's been too little too late…There have been a number of people who have been saying that it's a systemic crisis – this has been part of the eurozone package for the last 10-20 years," Rotherham said. He says the situation might become even worse and that people will continue to protest, with more and more joining them. "I think it'll certainly go on to the new year; there will be a lot more protests as a lot more people get out onto the streets," he predicted.
Oliver Adam from the EU referendum campaign predicts that financial hardship will increase and there will be even more unemployed people. He believes the worst protests are yet to come. "People see they are still bailing out other EU countries foolish enough to join the euro," Adam said. "There is going to be a lot of anger. A coalition government almost by definition is a government that nobody wants. So as we start to bail out more and more countries, and as students' costs go up, and as public-sector services are cut, people will become more and more angry. This student demonstration is just the very start; there will be many more demonstrations to come."
British Labor MP Jeremy Corbyn believes the increase in student fees in the UK will have disastrous consequences."The increase of 300 per cent in student fees, which is what the government is proposing to put through tomorrow, is absolutely monstrous," he said. "It will saddle future generations of students with debts of 27,000 pounds for fees, plus much larger debts in some cases for living accommodation. So what we see is the end of access to higher education for people of average and below-average income."Corbyn says the fees hike would result in the country's population becoming less educated and qualified, which will do enormous damage to the international standing of British universities.
Lindsey German, a member of the Coalition of Resistance, says people in Britain think higher education should be free and accessible to all. "So, there is an alternative [to austerity measures] through many other ways – education should be funded. We could stop spending money on wars, we could start making people pay their taxes, many of the richest individuals and biggest corporations pay very little taxes," she told RT."People are saying, 'why should the poorest pay for these austerity measures?'", she added.
You can share this story on social media: