Protests against austerity measures flare up in Europe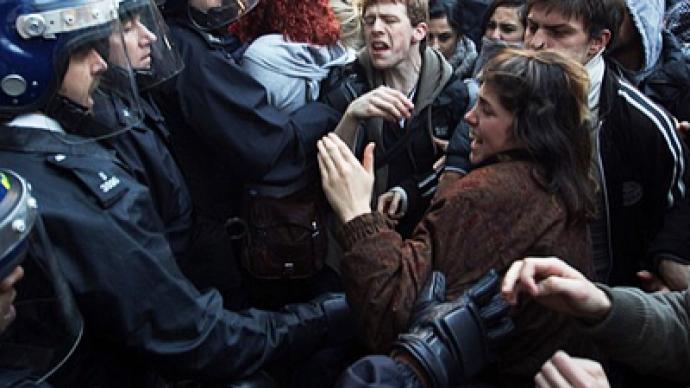 Portugal and the UK have been gripped by rallies and strikes against the governments' austerity measures.
A 24-hour general strike took place in Portugal over public sector pay cuts and tax rises on Wednesday – two days before parliament votes on a severe new budget. Meanwhile, in the UK thousands of students flooded the streets of central London over the government's proposals to increase university tuition fees. The demonstrations followed Britain's decision to join the rescue plan for crisis-stricken Ireland. The students are angry that they are losing out while money is going elsewhere.Some students staged sit-in protests at universities, while others attended rallies. Even school pupils were taking part.The widespread unrest saw missiles being hurled at police, windows smashed at Whitehall and several people injured.Authorities say over 30 arrests were made for criminal damage and public disorder.Oliver Adam from the EU Referendum campaign says the student protests are just a symptom of bad decision-making by Downing Street.He says people in the UK are dissatisfied with the politics of the government and are demanding that the billions the UK is sending out to help save EU economies should instead be spent on domestic needs like education."What would help the austerity measures, some people would say, would be leaving the EU. We are spending £48 million every day on staying in the EU," he said. "Why should Britain be bailing out countries that were foolish enough to join the euro in the first place?"
Ben Beech, organizer of some of the demonstrations in the UK, says the assault on universities is unprecedented."What we are seeing at the moment is possibly the biggest attack on higher education in decades," Beech told RT. "At the moment as much as 4.3 billion pounds stands to be cut from the university funding budget. That amounts to an 80 per cent cut in teaching and threat of closure for thousands of institutions across the country. In addition tuition fees are being raised for as much as 9,000 pounds a year… The main reason for this measure being introduced is a response to the banking bailout. They need to reduce our deficit."
Brian Cattell from the Bow Group, a conservative British think tank, supports the government's decision to contribute 7 billion pounds to the Irish bailout plan."The decision to support the Irish bailout was taken on pragmatic grounds, and those are that Ireland is one of the most important economic partners for the UK, and there would be very, very grave consequences for the UK economy if the Irish economy was to descend into chaos or to collapse completely," he said. "So I think it's been in Britain's self interest to send this money to Ireland. It was, on balance, the right decision."Still, Cattel says, although the right for peaceful protests is absolutely essential, today's violent protests are going over the edge, and anyway are unlikely to make lawmakers change their minds."We have a coalition government which is very strong, very committed to the course of actions that it set out, and I do not think that it will be swayed off that course by that kind of protests," he said.
According to Jon Gaunt from the EU Referendum Campaign, Europe is protesting because the general public is being forced to pay for the mistakes of bankers and politicians. "It is ordinary people who are paying for this whether it is students here in London, who are demonstrating today, whether it is train workers or whether it is people who work in the public sector," he said. "There is a major poll in today's Sun newspaper, the biggest tabloid here in Britain and it says that British people, 47 to 48 per cent of them did not feel we should bail out Ireland and nearly 80 per cent are now saying that the United Kingdom should not bail out other countries like Portugal or Spain," Gaunt added.
Portuguese parliamentarian Rui Tavares says budget cuts in individual economies will not solve the general problem that the euro is suffering as a currency."In Portugal we are going into the third round of budget cuts," he said. "And in Ireland people are telling us that they have done the most that they would, or could, or should, in budget cuts, and still the markets do not leave them in peace. The euro has institutional weaknesses… weaknesses of the whole common currency. They should be addressed as a whole, and not by pinpointing to budget cuts in one or another economy. If the interest rates keep rising, the budget cuts that we are making today will be ineffective tomorrow, and we've seen that movie already."
You can share this story on social media: