UK intimidation forces Guardian, New York Times into press freedom partnership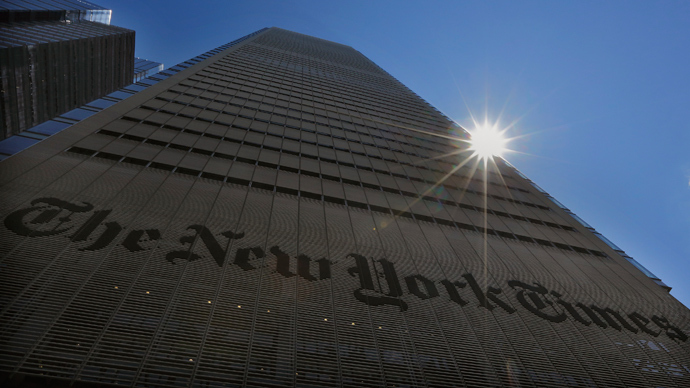 British editors at The Guardian newspaper have granted The New York Times access to some of the classified National Security Agency documents, in an attempt to resist pressure from United Kingdom authorities who have demanded the data be destroyed.
The partnership was sealed when the UK's GCHQ intelligence agency threatened The Guardian with legal action if they did not agree to destroy the leaked material provided by former NSA contractor Edward Snowden. GCHQ attempted to intimidate The Guardian weeks ago, an announcement earlier this week revealed, while the  agreement with The New York Times was made public Friday. 
"In a climate of intense pressure from the UK government, The Guardian decided to bring in a US partner to work on the GCHQ documents provided by Edward Snowden. We are working in partnership with The New York Times and others to continue reporting these stories," The Guardian said in a statement. 
Snowden is aware of the arrangement, which is similar to the 2010 partnership between The Guardian, The New York Times and Der Spiegel to publish WikiLeaks' disclosure of US military reports and diplomatic cables. 
Along with The Washington Post, The Guardian's Glenn Greenwald was the first journalist to publish Snowden's leaks in June of this year. The internal documents have revealed a vast surveillance apparatus enacted over the past decade by the NSA in the US and GCHQ in the UK. The programs, according to a GCHQ document, secretly aimed to "Master the Internet." 
Guardian editor Alan Rusbridger said earlier this week that UK authorities have managed to create a "lawless bit of Britain" under the nation's terror act, which he said suspended all checks and balances. 
Greenwald wrote on Friday that the government's crackdown on the news media, an action some pundits have said equates journalism with terrorism, may now include false leaks meant to mislead the public. Earlier this week authorities also detained Greenwald's partner, David Miranda, as he attempted to transfer flights in a UK airport. 
The Independent, another British publication, revealed on Friday the existence of a UK-backed internet-monitoring station in the Middle East, although that information was not included in the thousands of files Snowden passed along, the NSA whitsleblower claimed.
The problem, Greenwald wrote, is that UK lawmakers have claimed since June that the leaks pose a threat to national security while long being unable to prove that assertion. In an attempt to prove that claim, they may have intentionally leaked a damaging document. 
"Right as there is a major scandal over the UK's abusive and lawless exploitation of its Terrorism Act – with public opinion against the use of the Terrorism law to detain David Miranda – and right as the UK government is trying to tell a court that there are serious dangers to the public safety from these documents, there suddenly appears exactly the type of disclosure the UK government wants," Greenwald wrote.
You can share this story on social media: