​ Ex-Gitmo detainee arrested in UK terror op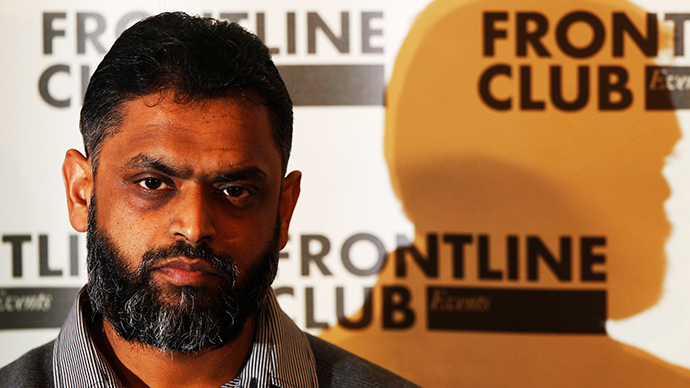 Former Guantanamo detainee Moazzam Begg has been arrested in the UK along with two other men and a woman. The four are being held on suspicion of Syria-related terrorist charges in central England, according to police.
Begg was detained on suspicion of "attending a terrorist training camp and facilitating terrorism overseas," according to West Midlands police.

The police said the arrests were connected. "They were pre-planned and intelligence led. There was no immediate risk to public safety," said Detective Superintendent Shaun Edwards, head of investigations for the West Midlands Counter-Terrorism Unit, according to a statement released Tuesday.

A police spokesperson told The Guardian that Begg's name was confirmed "as a result of the anticipated high public interest" from the media.

British-Pakistani Begg, 45, was held in the infamous US prison camp Guantanamo Bay from 2003. An assessment in November 2003 by the US Department of Defense claimed that he was "affiliated with three extremist organizations, including Al-Qaida."

He was released in early 2005 without charge, and later established Cageprisoners Ltd – a self-styled human rights organization which has as its aim "to raise awareness of the plight of the prisoners at Guantanamo Bay and other detainees held as part of the War on Terror."

Begg's passport was confiscated last year.

The suspects, being held at a West Midlands police station along with Begg, include a 36-year-old man, a 44-year-old woman and her 20-year-old son.

All three homes are continuing to be searched by West Midlands Counter Terrorism Unit officers, and both vehicles and electronic equipment have been removed for forensic examination.

Police said that the arrests didn't necessarily mean the suspects were guilty of any crime.

"We would take this opportunity to remind you of the requirement to report responsibly, that this is an arrest, not a charge, and that our naming does not imply any guilt," police said.

Begg's arrest comes shortly after the revelation that some 400 British-based extremists have traveled to Syria in the past two years, with some 250 returning to the UK. Security services have been monitoring the "extremist tourists."

"We continue to urge anyone planning to travel to Syria to read the advice issued by the Foreign Office," Edwards said, referring to the advice to UK citizens to "avoid all travel" to the country.

Political commentator Mohammed Ansar told RT that "a number of these people…are becoming increasingly radicalized, and the fear and the threat is whether they will turn to violence when they return to the UK in the attitude towards people they find unacceptable."
You can share this story on social media: