UK and German spies feed intelligence to Syrian rebels - reports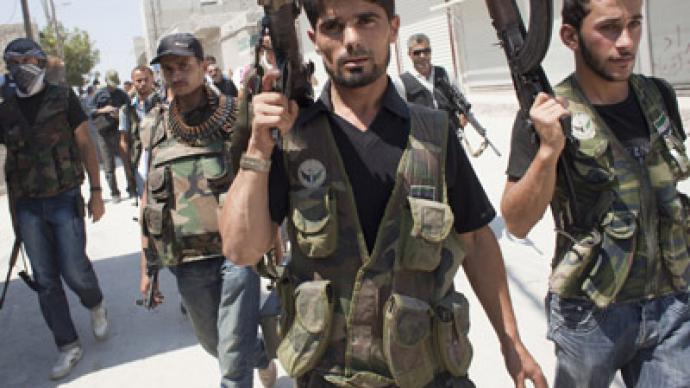 British and German spy intelligence on Syrian government troop movement has been shared with rebels to aid attacks on pro-Assad forces, UK and German newspapers revealed on Sunday.
An unnamed Syrian opposition official admitted that British intelligence is covertly aiding antigovernment forces in Syria, UK weekly newspaper the Sunday Times reported.British authorities "know about and approve 100%" of intelligence from their Cyprus military bases being passed through Turkey to the troops of the rebel Free Syrian Army (FSA), the official said.   The UK owns two military bases on the island of Cyprus, one at Dhekelia and another at Akrotiri. The bases monitor regional airwaves and report to the GCHQ (Government Communications Headquarters), Britain's national electronic surveillance center in Cheltenham, the report said.  "British intelligence is observing things closely from Cyprus. It's very useful because they find out a great deal," the official said. "The British are giving the information to the Turks and the Americans and we are getting it from the Turks."According to the source, the most valuable intelligence has been about the movements of troops loyal to President Bashar al-Assad towards the city of Aleppo, which has recently become the ground for fierce clashes between the government and the rebels. "The British monitor communications about movements of the government army and we got information about reinforcements being on their way to Aleppo," the official told the newspaper. "We hit at the government troops in Idlib and Saraqib [southwest of Aleppo], with success."The official claimed that early in August, FSA fighters were given advance warning of two large columns of government troops advancing on Aleppo. One was from Latakia on the Mediterranean coast, and the other from the capital Damascus."We ambushed troops and a column of more than 40 tanks in a valley near Saraqib," the official said. "We cut them off and destroyed many of them with repeat attacks with rocket-propelled grenades."German newspaper Bild also revealed on Sunday that Germany is much more active in Syria than was previously believed. German spies, stationed on ships off the Syrian coast, are transmitting intelligence to the FSA to aid in their campaign against the regime of President Bashar al-Assad, Bild reported.Agents from Germany's Federal Intelligence Service (BND) are equipped with high-tech spy technology, allowing them to observe troop movements as far inland as 600 kilometers (400 miles). The spies pass their findings onto US and British officers, who then pass the intelligence along to the FSA, Bild said.The newspaper also claims that BND agents are currently operating at a NATO base in Adana, Turkey, where they eavesdrop on phone calls and radio traffic within Syria."No Western intelligence service has such good sources inside Syria" as Germany's BND, Bild quoted an unnamed US intelligence official as saying.