Britain woos China: New visa rules, Harry Potter's gal and 'communist' bicycles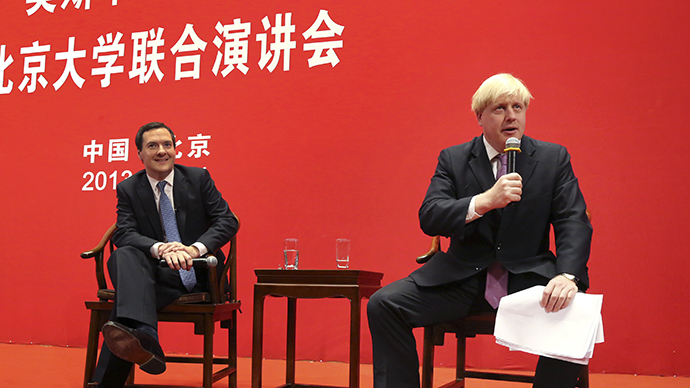 On a charm offensive in China designed to lure Chinese investment into the UK, Chancellor George Osborne announced new visa rules for Chinese tourists while London Mayor Boris Johnson paraded UK fiction and London cycles.
Chancellor George Osborne and Mayor Boris Johnson made a joint appearance at Beijing University where they gave a joint speech to students.
While Osborne said that Britain trusts the Chinese authorities to tackle corruption problems and aid that Britain must stop treating China "like a sweat shop on the Pearl River", Johnson brought the expected measure of absurd to the meeting.
Thus, the British chancellor revealed that Chinese tourists and businessmen will be able to apply for a UK visa using the same form as the EU's Schengen zone. Under present rules the Chinese are required to fill out a separate application and have their fingerprints taken.
The Brits will also introduce a fast 24 hour 'super priority' service from next summer and a VIP mobile visa service, already operating in Beijing and Shanghai, will potentially be expanded to the whole of China.
George Osborne told an audience of students in Beijing that there would be "no limit" to the number tourists, students and business leaders from China allowed into Britain. He added that a influx of Chinese tourists would be "fantastic" for the British hotel industry.
The move, which is designed to attract rich Chinese to Britain, has been strongly opposed by Theresa May, the Home Secretary. She said last year that relaxing the strict visa rules might lead to more organized criminals and fraudsters coming to Britain and would threaten national security.
May claimed that checks in Europe for Schengen visas "do not match the UK decision quality" and that UK visa controls act as a "key tool in protecting the public against significant harm", according to a leaked letter published by the Telegraph last year.

But Osborne was quick to distance himself from such comments and said that Britain must "show some respect" to the Chinese leadership for trying to tackle corruption.
Last month a senior member of the ruling Communist Party, Bo Xilai, was jailed for life for corruption, while British multinational GlaxoSmithKline is facing bribery allegations over its operations in China.
"Of course we can bring up issues that we have concerns about. But we have to respect the fact it [China] is a deep and ancient civilization that is tackling its own problems," Osborne told the BBC's Radio 4 Today program Monday.
UK's other attractions
When one of the students asked during a question and answer session afterwards, which of the two was in charge, Johnson said, "We are representing our country. It's a nest of singing birds is how I would describe it. Its total harmony."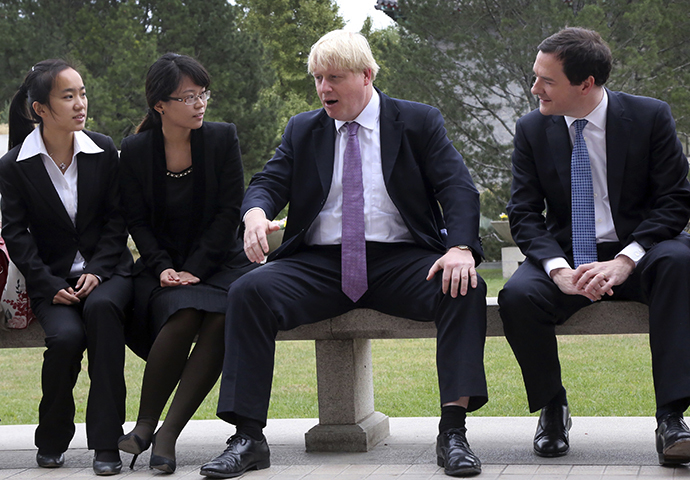 Johnson pointed out that there are more Chinese students in London than anywhere else except China.
"Is it because of the weather? You're laughing. Is it because we have so many wonderful French restaurants in London? Is it because we have so many beautiful communist bicycles on the streets of London?" he said in an apparent jape at the number of bicycles that have always littered the streets of Beijing.
"I'll tell you what I think it is. It's because we have more universities in London than any other city on earth – 42 universities in London," Johnson concluded.
He then talked of Harry Potter as proof of the "cultural interpretation" between China and the UK, as the first person Harry Potter kisses is a Cho Chang, a Chinese student at Hogwarts school. 
The British PR drive follows a lengthy campaign by the Daily Telegraph and a number of the most prestigious stores in London, including Harrods, which had been pushing for the Visa rules to be scrapped, warning that the colonial era restrictions were costing the country £1.2 billion in lost revenue per year.
The trade mission, which was also attended by Prime Minister David Cameron, has already seen £800 million invested by the Chinese in the expansion of Manchester airport's enterprise zone.
China may also be interested in financing a new generation of nuclear power stations in the UK, the government has hinted.
Britain, it seems, needs China more than China needs Britain and is very much open for business, especially if you're rich.
Ben Harris Quinney, chairman of the Bow Group think-tank, told RT the the new approach by Britain is much more realistic.
"It's a fascinating rebalancing of our approach to China from a government point of view, changing to be what I perceive to be far more realistic approach. George Osborne has been out in China lecturing the British about why they need to change their attitudes to China, as opposed to our prior position of often lecturing the Chinese on human rights abuses," he said.
You can share this story on social media: