Anarchy vs. London Olympics: Radicals prepare war on 'police state'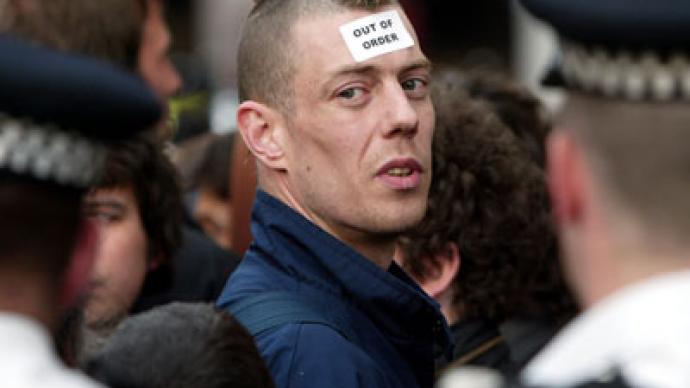 Anarchists in Britain "don't want rich tourists," they want "civil war." As the London Olympics draw nearer, those flying the black flag are going for gold in sabotage.
On the eve of the Olympic Games, the Federazione Anarchica Informale (FAI) seems fired up by unprecedented security measures being taken by British police. The British cell of the Italian anarchist group finds the "escalating police state frankly offensive."In line with their ideological convictions, the Games set for July are viewed as a rightful cause to act."We have no inhibition to use guerrilla activity to hurt the national image and paralyze the economy however we can. Because simply, we don't want rich tourists – we want civil war," reads a statement on their website.The same very statement has been used to justify a rash of recent offences currently being investigated by UK police.Last Tuesday, railway services were severely disrupted in Bristol, a prominent city in England's south-west, after cables were set on fire. The perpetuators had to remove protective concrete slabs to access the lines.It followed an attack on April 11, when several police stations in the same area were forced off the air. A police radio broadcasting mast on Dundry Hill was also damaged. The FAI statement said it "specifically chose" targets in Bristol as the Ministry of Defense has located several installations nearby. A local business park of "military industry companies" such as Raytheon, Thales and QinetiQ can also be found there."If they are serious about trying to disrupt the Olympics by using simple techniques such as these, they are capable of causing utter havoc," admits a private sector security consultant.The Olympics security bill tops £1 billion ($ 1.6 billion), with the Royal Air Force in London's airspace promising to shoot down passenger jets if required. Troops armed with surface-to-air missiles and warships will also be in place to do battle on the Thames. Still, most of this is to prevent Al Qaeda-style terrorist attacks, not "a low-intensity war" as promised by the FAI.Sabotaging UK transport system during July games, especially at another end of the country, has the potential of severely hampering travel during a critical period. But the FAI could go further than that, as they are also known for sending letter bombs to officials and carrying out drive-by attacks. In a recent instance, two motorcyclists shot a chief executive of a nuclear power company in the kneecaps in the Italian city of Genoa a fortnight ago.
You can share this story on social media: