Typo promotes Latvian capital as "hard to live"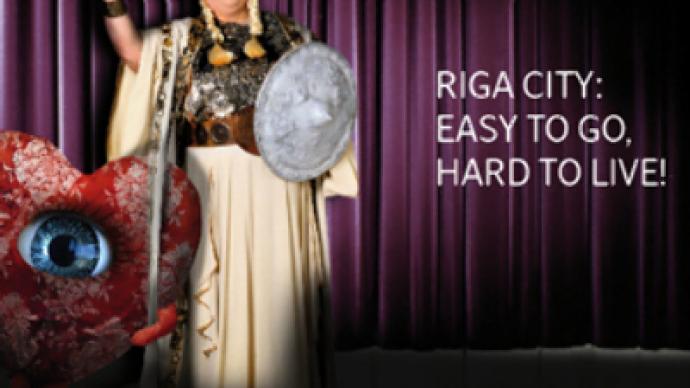 A promotional campaign aimed at attracting tourists to the Latvian capital has kicked off with a major gaffe, when media were presented example posters proudly stating: "Riga city – easy to go, hard to live."
The $800,000 ad campaign revolves around the claim that Riga is the birthplace of the Christmas tree and has a giant heart-shaped pin cushion with a single eye as the main character.
In the posters, the heart, which is meant to symbolize tourists leaving their hearts in Latvia, is shown wandering about the city's significant sights. In one it is shown with an opera singer dressed up as a valkyrie (a reference to Richard Wagner's two-year stay in Riga).
However some of the printed materials had the slogan misspelled, claiming that the city is "hard to live".
"It is very embarrassing. It was of course meant to say: hard to leave," a city council official commented on the gaffe for the Austrian Times newspaper.
The campaign, which is to launch on November 23, was subject to criticism from the very beginning over alleged corruption and lack of quality control.
Critics say the PR firm responsible for it did not even bother to hire a native English speaker, resulting in awkward-sounding passages like "The Birthplace of Christmas Tree. Now for 499 years" placed on every poster.
In another example, a leaflet reads: "Riga possesses something rather unique. It is a four-letter word, in the English language associated with meaning of love and life. This fact gives the opportunity to use short and memorable verbs to communicate the many different facets the city has to offer in conjunction with the word Riga: LOOK RIGA, STAY RIGA, FEEL RIGA, WORK RIGA."
The latest gaffe is unlikely to help improve the campaign's image. Some journalists were quick to call the mistake a Freudian slip, since Latvia's economy at the moment is in recession. Ironically, tourists spending their money during Christmas holidays in Riga are viewed as part of the solution to the financial problems by the government.
You can share this story on social media: