Two quakes strike near Fukushima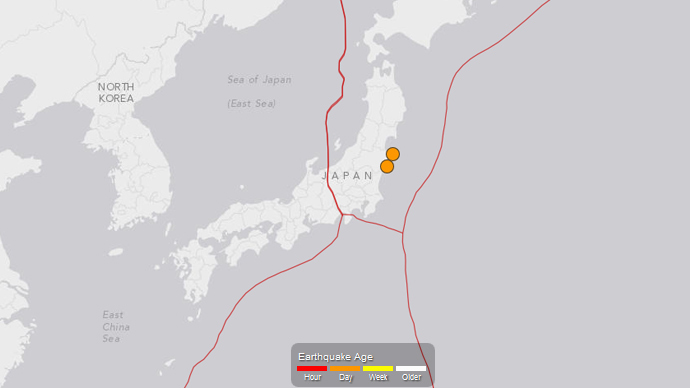 Two magnitude-5 earthquakes struck off the coast of Japan's Fukushima prefecture, the site of the 2011 tsunami and earthquake that killed more than 18,000 people and sparked the world's worst nuclear disaster since Chernobyl.
The first quake hit 34 kilometers off the coast of Namie, Japan at 21:18 GMT on Friday. The US Geological Survey (USG) measured its magnitude at 5.1. The tremor caused no serious damages, and no tsunami warning was issued in its wake, the Japan Meteorological Agency said.
The second quake, measured magnitude 5.0, and struck 34 kilometers from Iwaki, Japan at 6:34 GMT on Saturday. Like the previous quake, no tsunami warning was issued, though they posed stark reminders of the chronic insecurity at the crippled Fukushima Daiichi Nuclear Power Plant.
On March 11, 2011, a 9.0 megathrurst earthquake struck off the coast of Japan. The quake triggered a massive tsunami, which inundated the nuclear power plant causing three reactors to melt down.
Nearly three years later, authorities have failed to cap radioactive leaks, and Tokyo Electric Power Co. [TEPCO], the plant's operator, was recently forced to admit they had underestimated radiation levels by five times.
Meanwhile, ongoing seepage of contaminated water used to cool the damaged reactors continues to hinder cleanup efforts, which will probably take years to complete.
You can share this story on social media: