​Fukushima ice wall: TEPCO drills freeze wells to stop contaminated groundwater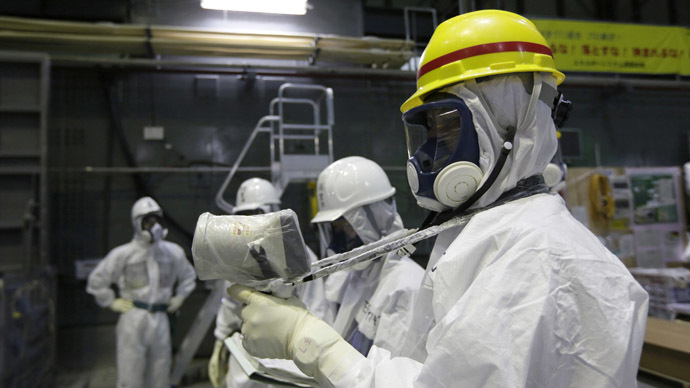 The operator of the crippled Fukushima nuclear power plant is erecting an underground wall of frozen soil, which would hopefully stop radioactive water from running into the sea. However, doubts remain over whether it will fix the leak problem.
Tokyo Electric Power Company (TEPCO) pours tons of water into damaged reactors to keep the melted fuel from overheating. But the buildings, which were damaged by the earthquake and tsunami of 2011 and the consequent disaster at the plant, are allowing radioactive material to seep into groundwater and pollute the nearby sea.
In September 2013, the Japanese government announced a plan to drill a row of wells around the area. A liquid coolant running through the wells will cool the soil around them and form a frozen wall in an attempt to prevent contaminated groundwater from getting into the environment.
The work on the wall due to start Wednesday at the Number 2 and Number 3 reactors, Japanese TV station NHK reported.
The program to isolate groundwater is to cost some $320 million in construction plus run costs and is scheduled to be complete by March 2015. The wall, maintained by rows of wells drilled at 1–meter intervals, is to run 500 meters north to south and 200 meters east to west.
The Japanese government chose the approach over more permanent solutions like erecting concrete underground barriers, which do not require a constant operation of freezers and coolant pumps. They said it allows for a quick rebuilding of the wall in case it is damaged by a new quake.
The plan is not guaranteed to work, with some experts fearing the groundwater may end up seeping even deeper once the frozen wall is in place.
The soil-freezing technology has long been used for civil construction in areas of abundant groundwater, for example for building subway lines. But it is usually done temporarily, and there is no record to indicate how reliable the solution would be in the long run.
Fukushima nuclear power plant was crippled in March 2011 by a powerful earthquake and subsequent tsunami, becoming one of worst nuclear disasters in history. TEPCO has been struggling to contain the fallout from the incident, but radiation leakages continue at the facility.
The disaster triggered a massive public outcry against nuclear energy, with several countries going completely rejecting it.
You can share this story on social media: