Digging a hole? 12,000 S. African striking miners sacked 'in absentia'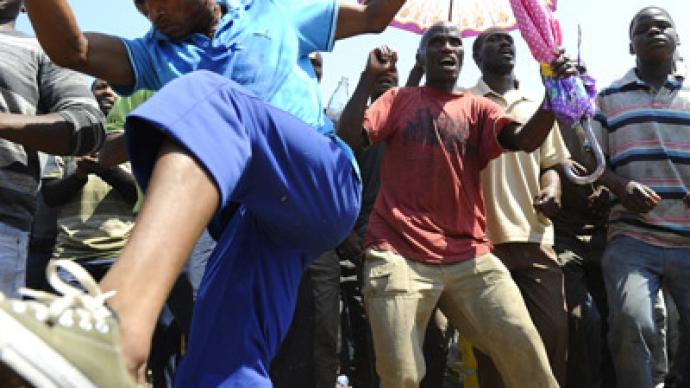 Up to 12,000 employees of Anglo American Platinum received messages Friday saying they were fired. The mining powerhouse dismissed the workers after a three-week strike. The labor stand-off has already taken 48 lives across South Africa since August.
The news was broken to the employees via SMS and emails. Commenting on the move, Amplats declared miners had failed to appear before disciplinary hearings "and have therefore been dismissed in their absence." The miners had been warned that would happen if they failed to turn up, the company said.The world's largest platinum producer says its lost over $80 million in revenues since a major strike gripped their mines in mid-September, involving at least 20,000 miners. "Despite the company's repeated calls for employees to return to work, we have continued to experience attendance levels of less than 20 percent," the firm said in a statement quoted by Agence France Presse.
Strike leader Gaddafi Mdoda was one of the those fired on Friday. He says that even if Amplats no longer employs them, this is no reason to end the struggle. The mineworkers are demanding 12,500 rand (about $1,500) in take-home salary, their current wages are reported to be around $500.Amplats says they still continue "exploring the possibility of bringing forward wage negotiations within our current agreements".
The sackings came hours before another striking miner was mortally wounded in clashes with police, bringing the total number of protesters killed since strikes began in August, to 48. Police would not confirm the cause of death, but protesters say he was shot with a rubber bullet.
The strikes peaked at over 75,000 participants, or 15 percent of workforce in the mining sector. Clashes with police often turned violent, involving tear gas, rubber bullets and water cannon. In a single day thirty-four strikers were killed by police at Lonmin's Marikana platinum mine, on August 16.Despite the growing tensions, negotiations with mine owners don't appear to be yielding any substantial results. A rare breakthrough was reached at the Lonmin platinum mines, where the worst violence broke out, with salaries being boosted 22 per cent. But on Thursday, South Africa's Chamber of Mines, the main industry body, said wage talks will not be based on that precedent. This may force coal miners to join platinum, gold, iron ore and diamond miners in further work stoppages. 
You can share this story on social media: