At least 30 killed as S. African police open fire on thousands of striking miners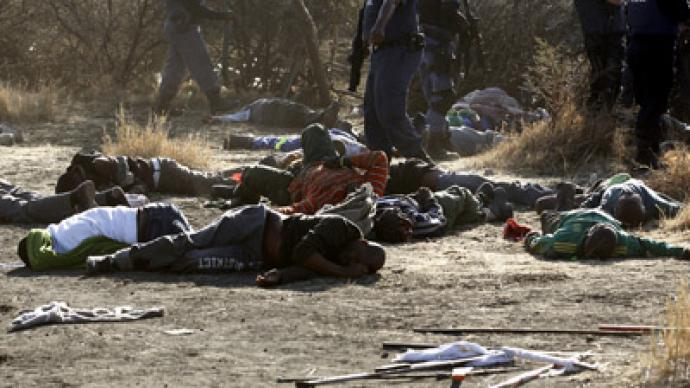 South African police opened fire at striking miners at the Marikana platinum mine, killing at least 30 protesters. The incident became the bloodiest industrial dispute in South Africa in the 20 years since the end of the country's Apartheid regime.
South African Minister of Police Nathi Mthethwa confirmed the death toll: "A lot of people were injured and the number keeps on going up."The killings occurred after police, attempting to lay down barricades of barbed wire, were outflanked by a crowd of 3,000 demonstrators armed with machetes and spears.Nine people were killed prior to Thursday's clashes in a wave of protest in the mining town, located 100 km northwest of Johannesburg. The platinum mine, owned by Lonmin PLC, has been the focal point of strikes and violence since last Friday stemming from wage disputes.Fighting intensified over the weekend when two police officers were killed. Striking workers and local security guards also became embroiled in the violence.Some 3,000 police massed in the area on Wednesday wearing riot gear and supported by helicopters. Demonstrators were reinforced on Thursday by a group of women pledging to stand by their husbands in their demand for increased wages.Lonmin announced that the disruption means the company is unlikely to meet its 2012 production targets. Shares in the company tumbled 6 percent following Thursday's violence, bringing total losses since the outset of the strike to 13 percent.The miners are reportedly demanding a raise in wages to over $1,000 a month.
You can share this story on social media: