Spate of terror attacks in Iraq kills 92, wounds over 200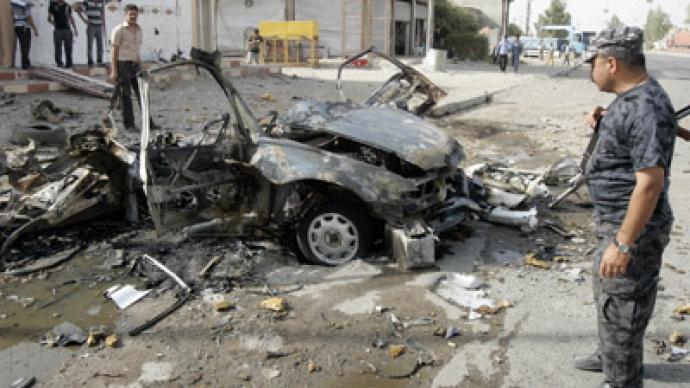 A series of blasts and shootings in five Iraqi cities resulted in at least 92 deaths and more than 200 injuries, officials said. The attacks struck Baghdad, Fallujah and several other cities.
At least 27 people were killed when a car bomb exploded outside a cafe in Baghdad's Zafaraniyah district.In Baghdad's Shiite stronghold of Sadr City, a bomb exploded next to an ice cream shop, killing 16 and injuring 40, Reuters reported police and hospital officials as saying.Five separate attacks throughout the country took the lives of seven people each. In the predominantly Shiite Husseiniyah district of the capital Baghdad, a car bomb went off in the morning, killing seven people and wounding 31 more. At noon, another car bomb exploded at the headquarters of a security office in the northern city of Daqouq. As police rushed to the scene, a roadside bomb went off, killing seven and wounding 31, security officials said. Seven soldiers at a security checkpoint near the town of Mishada were killed in a drive-by shooting. Eight more troops were wounded in the attack.In the evening, seven people were killed and 10 wounded after a suicide bomber blew himself up in a teashop in the northern city of Tal Afar, security officials reported. A car bomb also went off next to a market in the Shiite city of Kut, killing seven people and injuring 25. Eighteen more people were killed in other attacks throughout the country. At least two people died in eight separate bombings in the northern city of Kirkuk. Four policemen were shot dead in the former insurgent stronghold of Fallujah, while gunmen killed two civilians at a market in the northern town of Baaj. An explosion in Taji killed two, while a roadside bomb targeting an army patrol near Baqouba took the lives of four soldiers. The total number of casualties is the highest since the deadly July 23 attacks, when over 110 people were killed in similar coordinated attacks throughout the country. The Islamic State of Iraq, al-Qaeda's offshoot in the country, claimed responsibility for those attacks. While no one has claimed Thursday's attacks, they bear all the hallmarks of attacks perpetrated by the Islamic State of Iraq. Earlier this week, British security firm AKE Group warned that "[t]errorists in Iraq may be planning mass casualty explosive attacks against large gatherings of civilians to mark the end of Ramadan later this week."The attacks come ahead of the end of the Muslim holy month of Ramadan, which concludes on July 17 and 18.
You can share this story on social media: