Out of control: 26 policemen killed in Iraq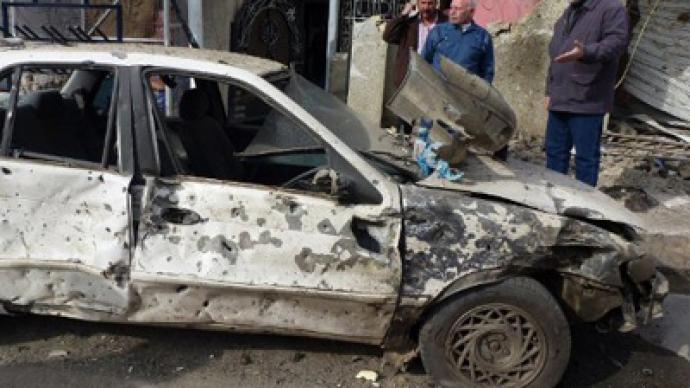 A gang of Al Qaeda-linked militants in a Sunni Iraqi town have attacked police, kidnapping and shooting officers as law enforcement seem unable to handle the violence in the country.
26 officers died and three were wounded by gunmen in military uniform on Monday night in the town of Haditha, some 220 kilometers northwest of Baghdad. The town was left practically without police as a result.The raid is said to have lasted just half an hour, as militants kidnapped and shot officers in the street and at checkpoints. Haditha officials describe the attack as a systematic plot to kill city law enforcement.The gang struck the former Sunni stronghold of some 85,000 people late at night. Wearing military uniform, the gunmen moved through the city in 13 vehicles painted to look like those of the Iraqi Interior Ministry. They had false arrest warrants for 15 police officials. Dragging two high-ranking police officials – a captain and a colonel who served as the city's SWAT team – out of their homes, they shot them dead.They then fell on two police checkpoints, killing those on duty and raising the flag of Al Qaeda in both.Police say three gunmen were killed, and the rest managed to escape.
Flourishing terror
After American troops left Iraq, the situation for locals who have chosen to protect the law from Islamist extremists went from bad to worse. An endless string of suicide and car bomb explosions seized Iraq.The deadliest recent wave of attacks raged across a dozen cities in late February. A series of car bombs claimed at least 55 lives, leaving more than 225 people wounded.
No group claimed immediate responsibility for these attacks, but the Iraqi Interior Ministry blamed Al Qaeda."These attacks are part of frantic attempts by the terrorist groups to show that the security situation in Iraq will not ever be stable," the ministry said in a statement. "These attacks are part of Al Qaeda efforts to deliver a message to its supporters that Al Qaeda is still operating inside Iraq, and it has the ability to launch strikes inside the capital or other cities and towns."Islamist extremists have long targeted Iraqi law enforcement while planning assaults. Now, the terrorists' activities appear to be moving from sporadic blasts to systematic rooting out of law enforcement in the country.
You can share this story on social media: