Turkish-Armenian journalist assassination raises hue and cry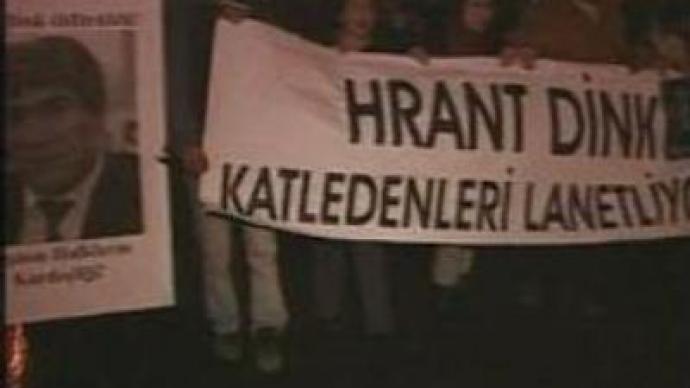 A Turkish citizen of Armenian descent, Hrant Dink, was shot dead outside his newspaper's offices in Istanbul. Right after his death, thousands of people took to the streets of Istanbul and Ankara to protest the murder.
The crowd also chanted against fascism and demanded the government bring the assassins to justice.The demonstrators took to the streets with slogans saying
'the murder that government will pay for', 'shoulder to shoulder against fascism'
and
'death to fascism'
.Others carried flowers and photographs of the journalist.Dink was the editor of a bilingual Turkish-Armenian newspaper and was well-known for writing about the Armenian genocide by Turks in 1915. The 53-year-old man died from 3 bullet wounds to the neck. Two suspects who were arrested in connection with the killing of the journalist have been released after questioning. It is reported that Dink had received threats from nationalists who viewed him as a traitor for his views. Within hours of the journalist's death there was strong criticism of the murder. The Armenian Foreign Minister condemned the killing, saying Dink spent his life seeking a mutual understanding between Armenian and Turkish people.Marina Ananikyan, editor-in-chief of the Panarmenian net news agency, says Armenia is deeply shocked by the killing:
"One of the priorities in Armenian foreign policy is the international recognition of the genocide of Armenians by the Turks in 1915. And since Hrant Dink lived and worked in Turkey and had the courage to write about that historical fact and sought closer ties between the two nations, he was very popular in Armenia."
Turkey's Prime Minister, meanwhile, said it was an attack on the country's peace and stability. He immediately appointed top officials from the justice and security ministries to investigate the murder.
You can share this story on social media: