Uncertain future: Turkish PM returns to cheering crowd, decries 'illegal' protests
Turkey's future hangs in the balance as Prime Minister Tayyip Erdogan has pledged to crush the massive anti-government protests. His uncompromising stance has the potential to goad activists into more violence as they call for Erdogan's resignation.
The prime minister was greeted with thunderous applause from supporters during a speech in which he pledged to end the "illegal" anti-government protests. He also vowed to continue with plans to demolish an art center on Taksim Square, potentially triggering a further escalation in tensions.
Upon returning from North Africa, Erdogan addressed thousands of supporters, encouraging them to disassociate themselves from "dirty games" and "lawless protests."
The crowd responded enthusiastically, pledging to die for the Turkish prime minister and crush Turkey's worst spate of unrest in over a decade. At least three people have been killed in the protester violence over the past week, including one police officer,with thousands more injured. Activists have condemned the heavy-handed tactics of the police.
"I call for an immediate end to the demonstrations, which have lost their democratic credentials and turned into vandalism," Erdogan said in a speech at the Istanbul airport, he earlier branded the demonstrators as "extremists."  He went on to state that he was elected by the majority of Turks and would not step down.
Erdogan will meet with European Union Enlargement Commissioner Stefan Fule to discuss Turkey's EU candidacy. A number of countries, including the US, have voiced concern over the recent unrest.
Members and supporters of Erdogan's Justice and Development Party (AKP) blocked roads leading to the airport, and waited for the prime minister's arrival well into the night. He eventually gave his address at 2:00am local time (23:00 GMT).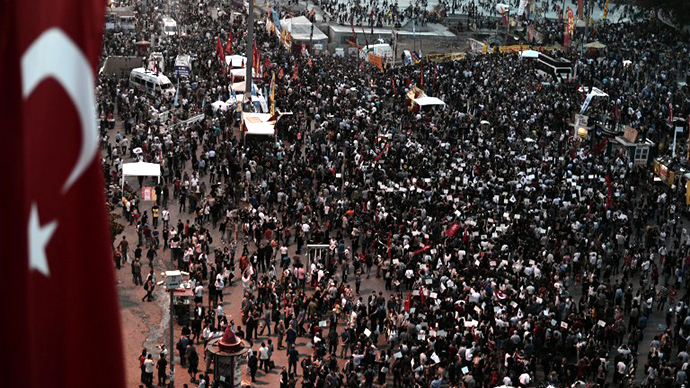 Thousands of opposition activists also gathered in Taksim Square for Ergodan's return, with some calling for the prime minister to resign. They have barricaded themselves in the center of the square using paving slabs and street signs. 
"It's all up to Erdogan and what he says right now. He will decide the fate of this resistance, whether it will calm or escalate," ship captain Mehmet Polat, 42, told Reuters.
Erdogan's aggressive stance towards the protests has raised concerns over the political situation in Turkey – particularly his vow to press on with a controversial plan to demolish the Ataturk Cultural center in Taksim Square. The dilapidated building, located in Istanbul's most bohemian district, has become a symbol of the anti-government protests across Turkey.
RT's Irina Galushko called the building a symbol of "protest and resistance," and the political heritage of Kumal Ataturk, the founder of the Republic of Turkey and its first president. The proposed demolition of the building runs the risk of inciting further violence and unrest. 
Demonstrations began last Friday when a sit-in against the construction plans for Taskim Square turned into violent protests over the perceived authoritarian rule of Prime Minister Erdogan and his Islamist party.
Since then, protesters have taken to the streets of Istanbul every night to show their anger over Erdogan's rule. The use of teargas and water cannons, coupled with the heavy-handed police tactics, has injured more than 4,000 people, according to Turkey's Doctors' Union.