Turkey signs law 'criminalizing' medical first aid without govt permit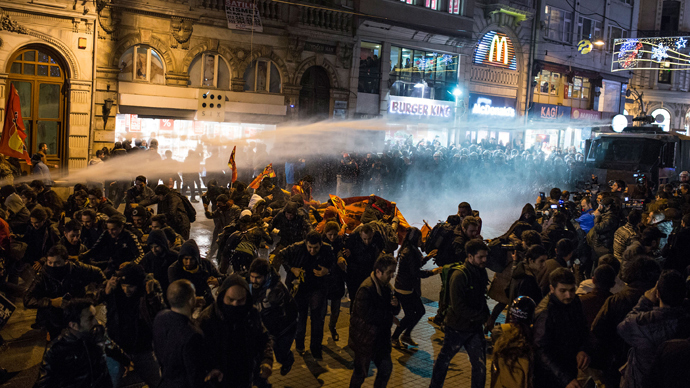 A medical bill has been signed into law in Turkey that requires doctors to obtain government permission before administering emergency first aid. Critics have blasted the bill as a crackdown on doctors who treat activists injured during protests.
The bill, which was drawn up by the ruling Justice and Development Party (AKP), punishes health care professionals with up to three years in prison or a fine of almost $1 million if they administer emergency first aid without government authorization.
It also bans doctors from practicing outside state medical institutions and aims to stop them from opening private clinics.
President Abdullah Gul signed the legislation into law Friday. It has prompted a flurry of accusations from rights groups, condemning it as an attempt to criminalize emergency health care and deter doctors from treating protesters.
Very unfortunate & concerning: Turkish President Gül has signed into law the #health bill criminalizing emergency #medical care. #Turkey

— PHR (@P4HR) January 17, 2014
The US-based Physicians for Human Rights (PHR) attacked the legislation as an attempt to quash dissent in Turkey, following last year's violent protests.
"Passing a bill that criminalizes emergency care and punishes those who care for injured protesters is part of the Turkish government's relentless effort to silence any opposing voices," PHR senior medical adviser Vincent Iacopino said in a statement on the PHR website.
Describing the bill as "repugnant," Iacopino said the legislation not only puts everyone's health at risk, but also conflicts with the Turkish constitution and "must be blocked through Turkey's constitutional court."
The PHR says the bill will also put the medical community at odds with their ethical and professional responsibility to care for the sick and wounded.
The UN has implored the Turkish government to rethink the bill because it will have "chilling effect on the availability and accessibility of emergency medical care in a country prone to natural disasters and a democracy that is not immune from demonstrations."
In last year's wave of protests against Prime Minister Tayyip Erdogan, six people were killed and over 8,000 were injured across the country.
The government was accused of cracking down on medical professionals when the Turkish Health Ministry launched a probe into those doctors treating protesters in June. They asked the Turkish Medical Association (TBB) to hand over the names of the doctors and their patients.
"Recently we were inspected by the Ministry of Health, they said what we were doing here is wrong. But there could be no punishment for those who are helping people. There is no such religion or law that could discriminate against us," Abtullah Cengiz, spokesman for the Gezi Park doctors, told RT in June.
You can share this story on social media: