​350 officers hit in Turkey police crackdown amid political crisis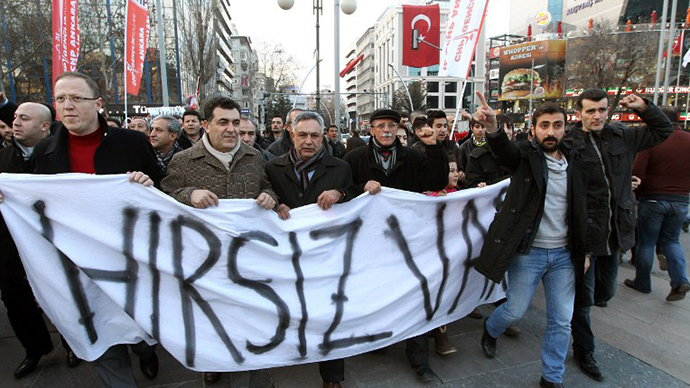 Some 350 Turkish police officers have been sacked or reassigned overnight in Ankara in the latest move to shake up the police force, local media report. It follows a high profile probe into alleged corruption in PM Tayyip Erdogan's government.
The policemen from the capital have been removed from their positions in the largest crackdown on law enforcers since the corruption scandal started in mid-December. 250 of the vacant positions were filled by new officers, most of them from outside the Turkish capital.
The majority of the officers, who were allowed to say in the force, were assigned to positions elsewhere in the country. They will take up duties in traffic police and district police stations, Turkish broadcaster NTV reported. Previously they were members of units fighting organized crime, terrorism, smuggling and financial crimes.
Police so far have not commented on the news reports.
The night of long knives in the police force is the latest in a series of Erdogan government attacks on law enforcers and the judiciary, in response to the corruption probes targeting his government. Ankara depicts the investigations as "a dirty plot" by the Hizmet movement of the US-based Islamic cleric, Fethullah Gulen, who has strong ties in the police and the prosecutors.
Ironically, Gulen's influence helped Erdogan undermine the power of the Turkish army, which staged three coups between 1960 and 1980, and forced an Islamist-led government from power in 1997. Hundreds of military officers, including generals, were sentenced to prison terms on allegations of plotting a new coup in 2003 and 2004.
Amid the corruption scandal, which poses the biggest threat to Erdogan's government in years, the prime minister announced that "sledgehammer case" sentences may be reviewed, a gesture apparently aimed at undermining the pressure political rivals can bring to bear on the government.
The Turkish government also warned that the political turmoil would hit the country's economy hard, with estimated costs rising to an astounding $100 billion. A healthy economy has long been a strong point in Erdogan's decade-long rule, but lately Turkey has experienced a slowdown, rising inflation and currency rates plunging to record-lows.
The scandal, which made Erdogan replace 10 of his ministers, comes shortly before local elections due in March and presidential polls in August. His AK Party has an uphill struggle to overcome the damage to its reputation in the aftermath of graft accusations.
You can share this story on social media: