RT crew caught up in tear gas in Istanbul as police crack down on anti-govt protest
An RT crew has been caught up in a tear gas attack while reporting on a mass protest rally in Istanbul's Taksim Square. Police used force against angry crowds, who took to the streets to protest high-level corruption in PM Erdogan's government.
Clashes started at around 17:30 GMT on Friday, with police using tear gas and water cannons to disperse the crowd, RT's Sara Firth reported from the site.
Lots of police on #Taksim in tense mood. Just got questioned & had to delete some photos despite being press. pic.twitter.com/S0nJTkPilU

— Sara Firth (@SaraFirth_RT) December 27, 2013
"It's very symbolic of the anger we've seen that has been building over the last couple of days," she said. "Bits of rock and marble are everywhere you look," with protesters throwing them at law enforcement officers.
"We had tear gas going on. Some of the protesters literally barricaded themselves in from the police to protect themselves from tear gas," Firth said.
Some of the protesters responded by shooting fireworks at police.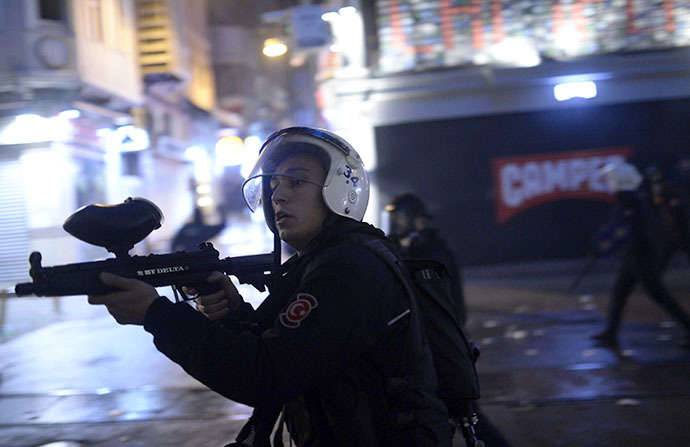 According to posts on Twitter, police followed protesters into side streets and fired rubber bullets, prompting them to respond with empty glasses. A reporter for Turkey's liberal Radikal newspaper "was shot by a rubber bullet," but despite being hurt "bravely keeps on reporting" from Taksim Square.
#taksim square,#Gezi park and also CCTVs have been shutdown by turkish government. Transport options to Taksim are blocked. Multiple arrests

— Eng. Mahmoud Soliman (@EMahmoudSoliman) December 27, 2013
Rubber bullets used by police pic.twitter.com/luAmoi0pVl#Taksim#Turkey #hırsızvar@kolektifler

— Meralin (@Meralink) December 27, 2013
Many ambulances and fire trucks were seen entering the pedestrian road following the crackdown, according to Hurriyet Daily News.
Hurriyet says that protesters gathered on Istanbul's iconic Taksim Square "upon a call that spread via social media."
They chanted "Everywhere bribery, everywhere corruption," which is reminiscent of the motto of the Gezi Park protests earlier this year. The slogan of those protests was "Everywhere Taksim, everywhere resistance."
Erdogan's rally. Also impromptu but no tear gas. RT @NeslihanCenk You Will Never Walk Alone! #OurHeroErdoganpic.twitter.com/JbFX846a6Q

— Zeynep Tufekci (@zeynep) December 27, 2013
"Numbers wise for protestors, we are so far seeing a much smaller crowd than what was seen in the summer," RT's Firth reported.
Around two hours after the clashes erupted, police cleared Taksim Square. Officers are currently prohibiting entrance into the Square, according to reports on Twitter. However, protesters have begun building barricades on nearby Istiklal Street.
There are still reports of heavy police presence in Taksim Square, with clashes in some locations.
18:20 Police at blocking way to Taksim Sq from Istiklal, already making announcement for crowd to disperse. pic.twitter.com/uyxExDOuGS

— Has Avrat (@hasavrat) December 27, 2013
According to reports on social media, clashes have also erupted in Ankara, with police using water cannons to disperse protesters.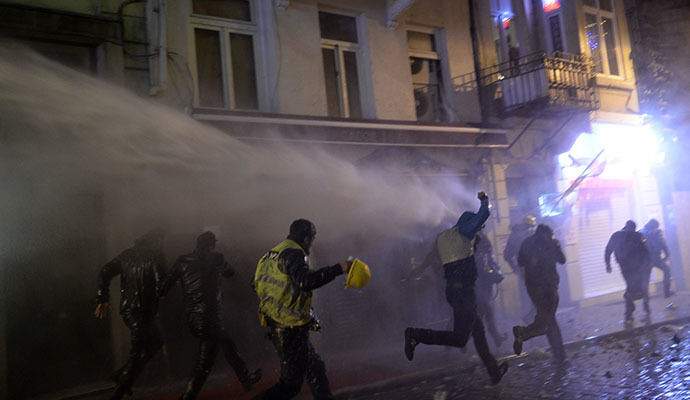 The crisis erupted over the major graft probe on December 17, which led to the resignation of three ministers and the detention of their sons – who were allegedly involved in corruption schemes. It was followed by a major government reshuffle. On Wednesday, Tayyip Erdogan replaced 10 out of 26 ministers in his cabinet.
As a result of the scandal, the Turkish lira reached its lowest value in more than three months, achieving record lows against the euro and the dollar. Meanwhile, the Istanbul stock market fell by 2.3 percent.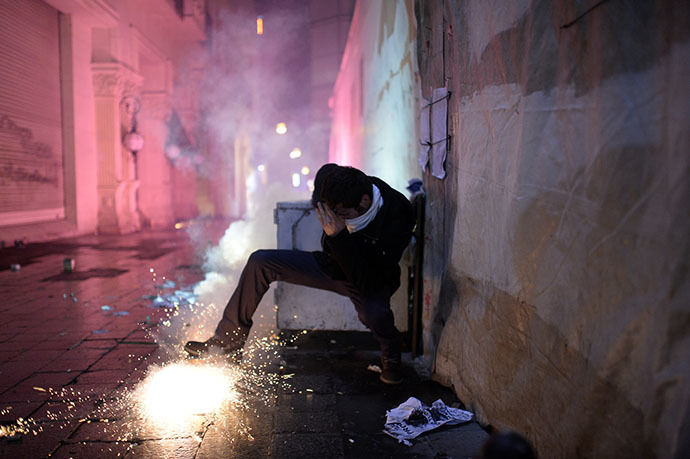 Middle East expert Jeremy Salt told RT that Turkey's prime minister is reacting in the same way to the corruption inquiry as he did to the Gezi Park protests earlier this year. "He is blaming outside and inside gangs, he is blaming all kinds of people for causing trouble; for undermining the integrity of the state. He is taking the same aggressive-defensive stance he took before."
"He has a very confrontational style. When he is faced with a problem, he goes straight forward. Instead of trying to contain the crisis, he has gone straight to the jugulars of people he describes as the enemy."
Salt added that the opposition in Turkey is not consolidated. "The opposition is not strong in parliament. It does not have a strong voice in the public sphere either, and this of course makes the government's position only that much stronger. This is a big part of the problem, this weakness of the opposition."
You can share this story on social media: