Tear gas and corruption: Istanbul police disperse protesters as graft scandal heats up
Turkish police have shot tear gas and water cannon at thousands of demonstrators swarming onto Istanbul's streets to protest the government after a corruption probe prompted the PM to purge the police force and allege 'dark' international plots.
Sixty-four-year-old Elif Cermik's heart stopped after the tear gas offensive, and he was placed in intensive care after receiving a cardiac massage, according to local press, 'TWİTTER GAZETESİ'.
Kadıköy 22 aralık 2013,polis saldırıyor pic.twitter.com/nW10ov7TGZ

— Sevinç Eratalay (@EratalaySevinc) December 22, 2013
Thousands gathered in Istanbul's Kadikoy district, wielding banners which called for the resignation of Prime Minister Recep Tayyip Erdogan. Some witness estimates say that the crowd grew to as much as 10,000 at one point, according to Reuters.

Chants of "enough is enough, Istanbul is ours" could be heard coming from the crowd, according to Turkey's Dogan news agency. March participants comprised of a broad coalition of party groups and civil society organizations.
#Kadıköy Thousand of demonstrating at the Kadıköy protesting against state corruption .Polis responded with tear gas pic.twitter.com/qwr3QcP5pb

— Şeyma Elaman (@SeymaElaman) December 22, 2013


"We believe what we saw," stated the provincial chairman of Turkey's CHP (Republican People's Party), Oğuz Kaan Salıcı. He said that "Mr. Prime Minister is the ringleader" of any corruption and made calls for "the resignation of the government soon."

Salici tweets that him and his organization arejoining in Kadikoy to say 'no/' to pillage, plunder, and thieves.
Yağmaya, talana, hırsızlara hayır demek için örgütümüzle birlikte Kadıköy'deyiz. #KentineSahipCıkpic.twitter.com/LfRkgjlVfV

— Oğuz Kaan Salıcı (@oguzksalici) December 22, 2013

The case investigating widespread bribery erupted on Tuesday, targeting some 89 people, including a handful of Erdogan's close allies.

On Saturday, the sons of Interior Minister Muammer Guler and Economy Minister Zafer Caglayan were charged with acting as go-betweens. They were among the 24 people - including high-profile bureaucrats, businessmen and politicians arrested in connection with the large scale operation, known as 'The Big Bribe' which has been underway since Tuesday.

Two have been released since the arrests began. Mustafa Demir, the mayor of Istanbul's Fatih district, and Abdullah Oguz Bayraktar, who is the son of Environment and Urban Planning Minister, Erdogan Bayraktar are both free, but barred from travel abroad as they need to check in at a police station once a week.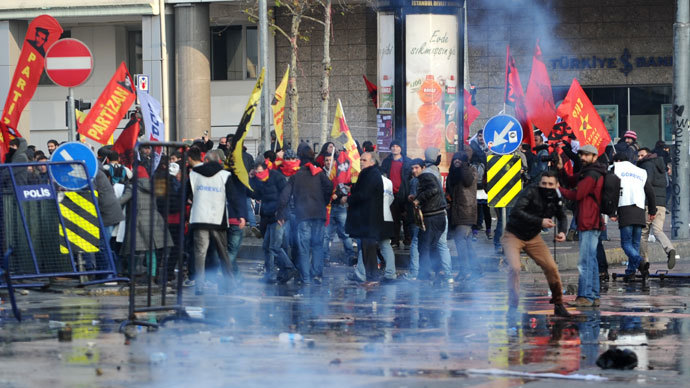 Erdogan described the corruption probe as a smear against his party.

"A quite lawless, dirty and dark plot is being laid in the guise of corruption. Corruption is only the cover. Our sensitivity regarding corruption is already apparent," Erdogan said in an address at an opening ceremony in Turkey's northern province of Giresun, according to Turkey's Anadolu Agency.

Twenty-five police chiefs were sacked on Sunday as part of a crackdown on dissent - police or anyone else found to have been involved with the probe were being punished for their participation. Overall, about 70 police officers, including the head of Istanbul's force, have either been fired or been forced to change position.

The investigation revealed rifts between Erdogan and his former ally, US-based Islamic preacher Fethullah Gulen.

Gulen has some influence over both the police and judiciary in Turkey. While Erdogan has held back from ascribing blame to Gulen, a deep divide on matters of schooling highlighted the rift last month, and Gulen's 'Hizmit' ('Service') movement has been increasingly at political loggerheads with Erdogan.
Bu pisliği ben bile temizleyemem! Beni bu olaya karıştırma Usta. #KentMitingi - Kadıköy pic.twitter.com/Zcolc3CO9I

— TOMA (@tomagrafi) December 22, 2013
"I can not even clean up this mess!" one tweeter proclaims.

On Saturday Erdogan denounced "international groups" and "dark alliances" for being behind the corruption probe which he said was undertaken with the intention of undermining his rule.

"Some ambassadors are engaged in provocative actions," Erdogan announced in a televised conference on Saturday. He instructed them to do their jobs, prompting US Ambassador Francis Ricciardone to publically tweet that: "The United States has nothing to do with the ongoing corruption investigation."

Claims that foreign powers have been behind the unrest gripping the country are reminiscent of Erdogan's stance in May and June. Six people died and 8,000 injured in the nationwide protests, which also saw the use of water cannon and tear gas by the security forces. In June, it emerged that the country's tear gas supplies were so depleted that they were beginning to run out.