Hundreds of protesters clash with police in Turkey amid mass trial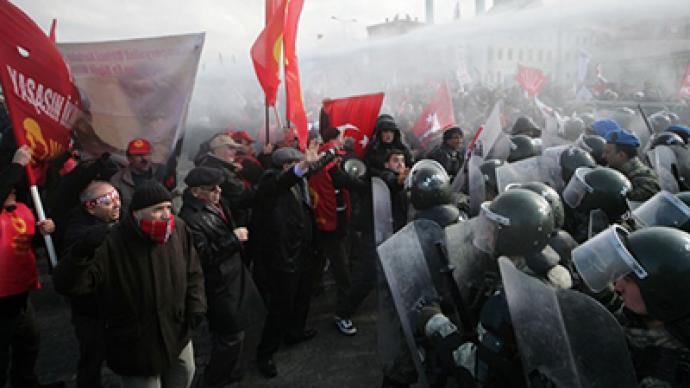 Police used water cannon and pepper spray to disperse a crowd of demonstrators outside a prison complex on the edge of Istanbul where the mass trial of hundreds of people accused of scheming to topple the elected Turkish government was postponed.
Over a thousand protesters, including many relatives of the accused as well as army supporters, tried to breach the security cordon outside the court compound but were repelled by police, as the trial was again postponed until 11th March. It had already been postponed since December. Some of the demonstrators were injured in the scuffle. The defendants of the four-year-long trial are accused of trying to start an uprising against the Islamic leaning Justice and Development Party (AKP) government and having ties to an alleged ultranationalist terrorist network known as Ergenekon.Many of the protesters were supporters of the main opposition Republican People's Party (CHP). A CHP deputy, Lihan Cihaner called for restraint and said that the police were trying to pit the protesters against the military. "There are old people here, people who cannot even stand up, they surrounded up with pepper gas and soldiers. They want to pit us against the military; they want to portray us as violent people. Let's not fall into this trap," Cihancer said, it was reported by Hurriyet Daily News.
The trial involved top military personnel, army officers, academics, journalists and lawyers, and the verdict is expected within weeks. Pro-government groups have praised the trial as a step towards democracy that will end a tradition of political interference in Turkey. But critics said the case is based on shaky evidence, and is an act of revenge against the powerful Turkish army, which is the second-biggest in NATO after the US and is openly hostile towards Islamist Prime Minister Tayyip Erdogan. The Turkish army has overthrown or subdued four governments in the past 50 years.The indictment accused alleged members of Ergenekon of a number of attacks over several decades, including a grenade attack against the center-left newspaper Cumhuriyet's Istanbul headquarters in 2008, and a shooting at a court in 2006 that killed a judge. Islamists were initially blamed for both attacks, but prosecutors believe the attacks were actually instigated by the army command with the eventual aim of toppling the AKP government, and restoring nationalist leadership in Turkey.
Prosecutors in Turkey have insisted that Ergenekon are responsible for virtually every act of political violence, and are in control of every terrorist group in Turkey from the past 30 years. The investigation has lasted more than 5 years and has multiplied into various inquiries, reflecting the deep hostility in Turkey between the army and the AKP government. Turkey's military elite see themselves as guardians of the country's secular constitution. Some fear that moves towards restricting alcohol and lifting the partial ban on women wearing headscarves could be the first steps towards an Islamic state. In a separate case in the same court last September, more than 300 active and retired army officers and three former generals received prison sentences of up to 20 years for their involvement in a military-led coup plot in 2003 dubbed 'Sledgehammer.'
You can share this story on social media: