Turks rally for secular society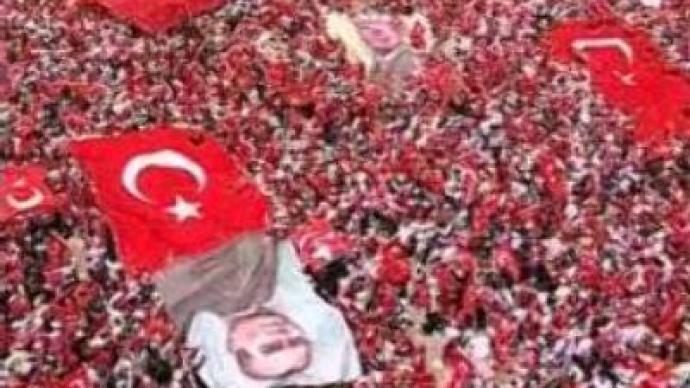 Around 1.5 million people have gathered in the Turkish city of Izmir to defend Turkey's status as a secular country. The formerly Islamist AK Party is the current favourite to win a general election set for July.
The rally in Izmir is the country's fourth in the last month. It is aimed to put pressure on the government that the people fear is planning to raise the influence of Islam on society. The protestors are carrying red-and-white Turkish flags and pictures of Mustafa Kemal Ataturk, the leader who founded the secular state back in 1923.The blinding sunlight, and the crowd, waving flags and kitted out in bright red, conspire to make Izmir's seafront appear like a giant carnival. But the mood of Turkey's 1.5 MLN secularists gathered there, many of whom have traveled across the country to attend the demonstration, is hardly festive.The rallies took place after Prime Minister Erdogan's government nominated a presidential candidate who is seen as an Islamist. The AK Party, which denies that it has an Islamist agenda, is the biggest in parliament, and its leader is the Prime Minister.The current crisis began when it attempted to nominate Foreign Minister Abdullah Gul as the next President. Turkey's President is a guarantor of the Constitution, and the post has been traditionally held by a secular politician.The President is chosen by parliament, but when the AK Party voted for Gul, the Supreme Court first annulled the decision, and introduced a quorum, which the AK Party was not able to achieve, as the deputies of other parties simply filed out of the room during the vote. To solve the deadlock, an early general election has been called for July 22.But, as the AK Party remains a frontrunner, this is unlikely to be enough to resolve the crisis. The party is also demanding that the next President be chosen by popular vote, not in parliament. This move will likely be vetoed by the incumbent secular President, Ahmet Necdet Sezer.
You can share this story on social media: