Turkey wants Turk-born kids brought up in native culture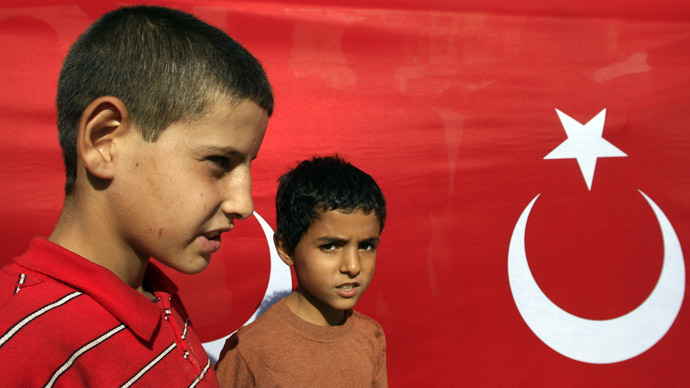 Under a massive new campaign to preserve Turkey's cultural identity, children of Turkish immigrants in Europe placed with non-Turk families by social services may be retrieved to be "raised in an environment similar to their native culture."
Ankara has launched a comprehensive drive and is mobilizing diplomatic efforts to retrieve Turkish children placed in foster care in a number of European countries, Bekir Bozdag, the Turkish Deputy Prime Minister, recently announced.
The move comes after a court in the Netherlands refused to return Yunus, a nine year-old Turkish boy, to his biological Turkish family because his mother did not speak Dutch.

Yunus was fostered by a Dutch lesbian couple.  Turkey's expatriate authority, the YTB, said in a statement that Yunus referred to both parents as "mother" "out of confusion for the family institution," and was frequently taken to church.
Authorities in Turkey disapprove of placing Turkish kids with same-sex couples, and fear that children in Christian homes will forget their Muslim roots.

"Turkish families just do not want to give their kids to gay or lesbian couples. It is important for kids to be raised in an environment similar to their home culture," Bozdag told reporters following last week's decision.

Turkish authorities are stepping up efforts to guide the family through legal proceedings to help repatriate Yunus or get him placed with foster parents of whom his biological family would approve.

More than 5,000 Turkish children living in Europe have been taken away from their families by social services, either because of poverty, the death of parents or parental negligence, according to Turkey's parliamentary Human Rights Commission.

As a result many of them grow up without learning about Turkish culture and traditions, the commission claims, and sometimes they lose contact with their families.

Ayhan Sefer Ustun, a lawmaker in Turkey's ruling party, said that while to date there have been no formal requests to retrieve Turkish children, international conventions do give Turkey the right to do so. 
"We might exercise that right if protective measures continue to pose a problem," he told AFP.

But European fostering bodies have said they try their best to find the best possible caregiver for a child and always try to raise kids in consideration to their native culture.
"We try really hard to find the best possible match for the child in a foster home. That's why we always first look into the network: are there family members who can take care of a child?" said Hilije Wolfson, a spokeswoman for a Dutch foster organization.
Part of the problem is that very few Turkish families put themselves forward for fostering. 
Aygul Özkan, Germany's first female minister of Turkish origin, said that the number of Turkish families willing to adopt, particularly in Germany, should increase.

"There are no Turkish foster families in Germany, and therefore the children of poor Turkish families who cannot afford to raise their children are adopted by families of other nationalities. There should be Turkish foster families instead of German ones," Özkan, who has been the minister for social affairs in the state of Lower Saxony since 2010, told the Turkish English language newspaper Today's Zaman on Tuesday.

But there are signs that things are beginning to change. Star of Hope (Umut Yildizi) is an NGO established in Germany to help Turkish families foster.

"Throughout these 50 years we lived in Europe, we have established mosques, tea shops, restaurants, but apparently we never thought of our posterity. There were virtually no Turkish foster families before this campaign," said Kamil Altay, the head of Umut Yildiz.

Kazim Akdemir, the head of Umut Yildizi's Dutch branch, explained that they submit to courts a list of Turkish families they know and trust who have put themselves forward for fostering. 
"I think [children] are way happier if they are placed in Turkish families, who speak their language, cook meals like their mother does," said Nejla Buran, who in 2007 became a foster mother for two brothers and who also has two children of her own.

You can share this story on social media: