Boston bombing: Suspect Tamerlan Tsarnaev 'had literature' supportive of white supremacist beliefs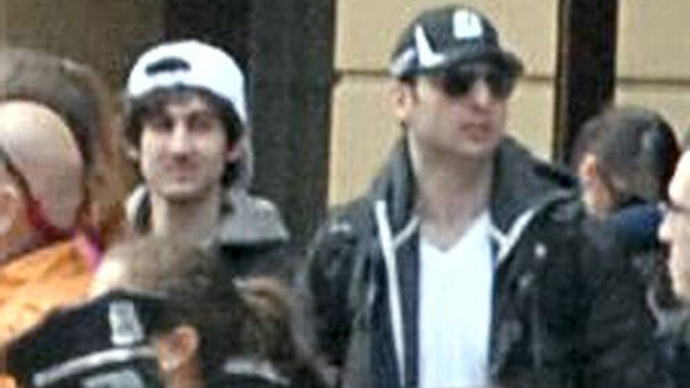 Boston bombing suspect Tamerlan Tsarnaev possessed right wing extremist reading material which was seemingly supportive of white supremacist beliefs, owning further literature on conspiracy theories, BBC's Panorama program claimed.
The program alleged that one right-wing article belonging to the suspect advocated some beliefs characteristic of white supremacists and argued that "Hitler had a point."

The 26-year-old, who was killed in a shootout with police after the deaths of three people during April's Boston Marathon bombing, also read up on "the rape of our gun rights," the report adds.
According to the program, he possessed materials, deemed to be "government conspiracy theories," which accused the US government of orchestrating the 9/11 attacks and the Oklahoma bombing in 1995. Reportedly, Tamerlan also had literature that explored the psychology behind mass killings and how the perpetrators "murdered and maimed calmly."
"[Tamerlan] just didn't like America. He felt like America was just basically attacking all Middle Eastern countries…you know, trying to take their oil," Panorama cited a person titled as an anonymous friend of Tamerlan's.

A former profiler for the FBI, Mary Ellen O'Toole, told the Wall Street Journal that she doubted Tsarnaev's "extremist" readings would have had a role in creating his opinions, though she said they could have reaffirmed existing beliefs.

Tamerlan Tsarnaev, along with his brother Dzhokhar, allegedly detonated two homemade bombs at the finish line of the Boston Marathon in April. Tamerlan Tsarnaev was killed by police in the subsequent manhunt, while his younger brother was apprehended and has since been charged with murder and use of a weapon of mass destruction and could face the death penalty. Dzhokhar denies the charges against him.
Speculation has been rife as to whether US secret services could have prevented the attack. The FBI denied last week that it could have stopped the plot from coming to fruition, had they ramped up surveillance on Tamerlan. Russian intelligence agencies advised the FBI to monitor Tsarnaev in 2011, whom they suspected of fostering extremist Islamist beliefs.
The two brothers relocated to the US from Dagestan around 10 years ago.
The FBI is currently investigating suspicions that Tamerlan became radicalized during a visit to Dagestan last year. House Intelligence Committee chairman Mike Rogers told the BBC that the brothers' mother, Zubeidat Tsarnaeva, had a hand in his radicalization.
"He had family members encouraging, we know that for sure," he said.

Zubeidat Tsarnaeva denies these accusations and maintains Dzhokhar and Tamerlan's innocence. In an interview to RT after the April bombings she accused the FBI of framing her sons for the attacks.