Troika proposes 150 new reforms for devastated Greece - report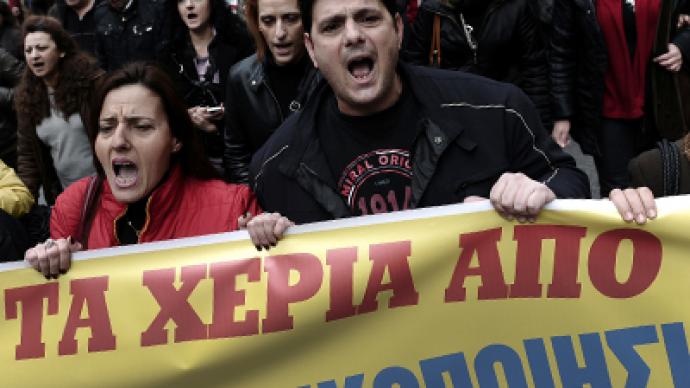 While Greece claims the deal on its new rescue package is nearly final, the troika will reportedly require the country to implement 150 new reforms within two years.
The reform proposals by the European Commission, the European Central Bank and the International Monetary Fund – which comprise the so-called "troika" – include loosening of hiring-and-firing laws, changing minimum wage rules and abolishing professional privileges, Germany's Spiegel reports.To control the implementation of the reforms, the troika proposes keeping bailout tranches in a special frozen account, releasing them only after the reforms are introduced.The report also suggested that the troika proposed a debt restructuring, meaning that creditors would write off some of their Greek debt holdings, along with a two-year delay for budgetary consolidation. German Finance Minister Wolfgang Schaeuble sharply criticized the idea, saying "that is a discussion which has little to do with the reality in the member states of the eurozone."He suggested, however, that Greece buy back some of its debt at discounted prices, Spiegel reported. Private investors agreed to write off almost all of their Greek debt as part of a second bailout package, put together earlier this year.Meanwhile, so-called "official sector" bondholders, including other eurozone countries, are still clinging to their share of Greek bonds. The European Central Bank made it clear it would not write off its share of Greek debt, as this would mean financing Greece – which is forbidden, the report says.Athens is looking forward to a €31.2 billion tranche from its current bailout package. Otherwise, the country may go bust as early as the end of November, according to Prime Minister Antonis Samaras.Last week Finance Minister Yannis Stournaras asserted that almost all the conditions of the new deal had been agreed upon, saying the parties were still to discuss labor reforms and measures to reform products and services markets.Earlier he had agreed to cut €6.5 billion in wages, pensions and benefits and to save €1.5 billion from reforms to the public sector. Some reports also said the pension age would be raised by two years, bringing it to 67, a move that would save Greece another $1 billion.