Car bomb hits French Embassy in Tripoli, 2 guards injured (PHOTOS)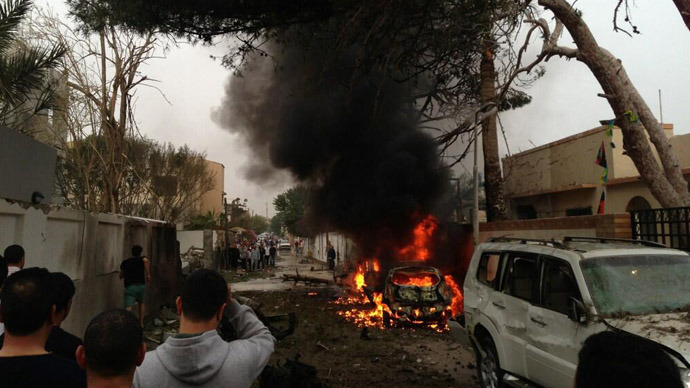 A car bomb has exploded at the French Embassy in the Libyan capital Tripoli, injuring two guards, and a girl in nearby house said embassy officials.Initial reports say the attack was a booby trapped car.
"There was an attack on the embassy. We think it was a booby trapped car," an official told Reuters, adding that the blast caused a lot of damage.
One of the guards was only lightly wounded, while the other sustained more serious injuries.
Black smoke billowed from the wreckage of the vehicle that exploded close to the Embassy's entrance as fire crews arrived to put out the flames. Part of the Embassy complex's outer wall was partly destroyed in the explosion as well as two nearby cars.
A Libyan girl in her teens, who was in a nearby house, was also hurt from the blast.

The US diplomatic mission in Benghazi was struck by an attack last September that killed the American ambassador and three other staffers.
Libya remains troubled by regular outbreaks of violence, with the country's new rulers trying to curb the power of armed militia groups that have remained active following the ouster of former President Muammar Gaddafi.
France was the first country to deploy armed forces in Libya in March 2011 after then-President Nicolas Sarkozy stated that "Gaddafi must go."