Torture is commonplace in Libyan prisons – UN report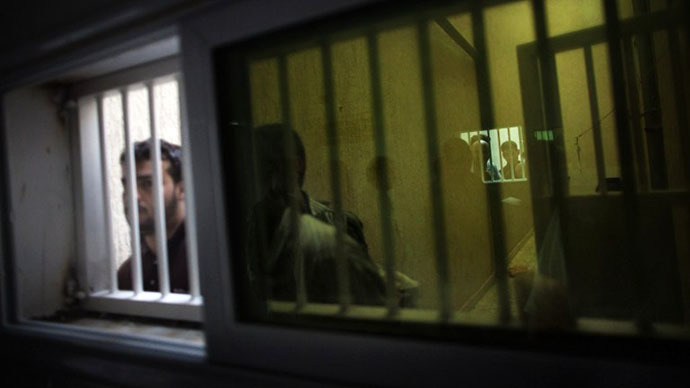 Thousands of Libyans believed to have fought for ousted leader Muammar Gaddafi remain imprisoned where they are regularly tortured and brutalized two years after the revolution, according to a new report from the United Nations.
Despite attempts by the provisional government to correct the ongoing dehumanization, approximately 8,000 detainees remain in custody without charges, held under suspicion of fighting alongside Gaddafi's troops. The UN report also mentioned that countless other suspected soldiers are held by freelance militias under conditions worse than those of the devastating prisons. 
"Torture and ill-treatment in Libya is an ongoing and widespread concern in many detention centers," stated the report from the UN's High Commissioner for Human Rights (UNHCHR) and the United Nations Support Mission in Libya (UNSMIL). 
While no comment was available from the current Libyan government, officials have said before that they are committed to ending torture and enforcing the criminal justice system. 
The UNSMIL noted that 27 deaths have taken place inside detention facilities over the past two years and almost all of them can be blamed on torture, Reuters reported. 
Torture was recently deemed a criminal offense in Libya, yet the UN warned "there is a danger that torture will become institutionalized within the new Libya." Many of the arrests were thought to be motivated by personal grudges or revenge. 
Many of those currently incarcerated were dragged from their homes without explanation and beaten in the streets by furious militiamen. Some were raped with bottles before being locked into insanitary jail cells and still have yet to see the light of day. 
If a detainee has been taken to a government-operated prison, they were likely tortured in the beginning of their stay, the UN report states. UN inspectors were not allowed in the facilities under militia control, and there is a strong possibility that brutalization is ongoing. 
"The lack of oversight by the central authorities creates an environment conducive to torture and ill-treatment," Navi Pillay, the UN High Commissioner for Human Rights, told the UN Security Council in 2012. "My staff has received alarming reports that this is happening in places of detention that they have visited."